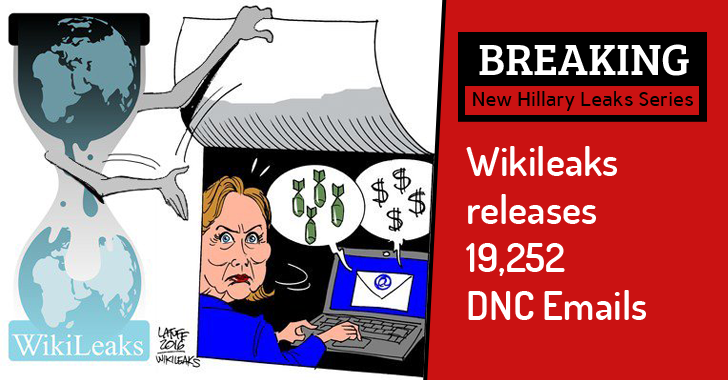 Today, whistleblowing website
Wikileaks
has finally
published
more than 19,000 e-mails, which contains more than 8,000 attachments from the
US Democratic National Committee (DNC)
.
The new trove of documents apparently pilfered from the DMC released after Wikileaks yesterday
announced
via its official Twitter account that a "series" about Hillary Clinton is coming soon.
The published documents are part one of Wikileaks' new Hillary Leaks series, Wikileaks said in a press release.
The emails released by Wikileaks were handed over to the whistleblower organization by the DNC hacker using handle "
Guccifer 2.0
," who hacked DNC's computer systems in a such a way that the hacker was able to read all email and chat traffic.
The leaked 19,252 emails cover a period from January 2015 to May 2016 and allegedly come from the accounts of seven key figures in the DNC:
Communications Director Luis Miranda — 10770 emails.
National Finance Director Jordon Kaplan — 3797 emails.
Finance Chief of Staff Scott Comer — 3095 emails.
Finance Director of Data & Strategic Initiatives Daniel Parrish — 1472 emails.
Finance Director Allen Zachary — 1611 emails.
Senior Advisor Andrew Wright — 938 emails.
Northern California Finance Director Robert (Erik) Stowe — 751 emails.
The organization has also released 8,034 DNC email attachments, which includes 891 documents, 175 spreadsheets and thousands of images.
Last year, Clinton came under severe criticism for using a private server and e-mail address for official Government business while she was secretary of state from the year 2009 until 2013.