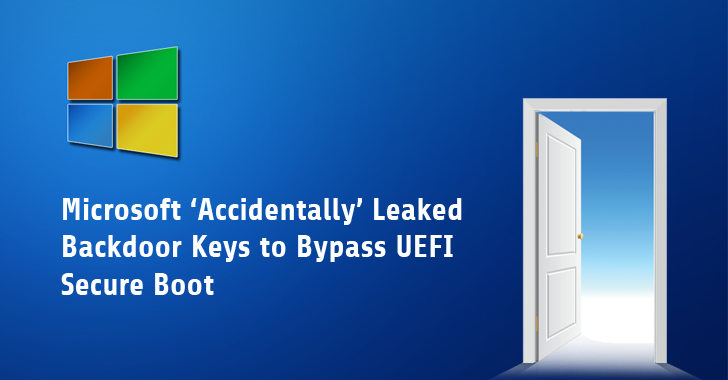 It's True
—
There is no such backdoor that only its creator can access.
Microsoft has accidentally leaked the Secret keys that allow hackers to unlock devices protected by UEFI (
Unified Extensible Firmware Interface
) Secure Boot feature.
What's even worse?
It will be impossible for Microsoft to undo its leak.
Secure Boot is a security feature that protects your device from certain types of malware, such as a rootkit, which can hijack your system bootloader, as well as, Secure Boot restricts you from running any non-Microsoft operating system on your device.
In other words, when Secure Boot is enabled, you will only be able to boot Microsoft approved (
cryptographically signature checking
) operating systems.
However, the Golden Keys disclosed by two security researchers, using alias
MY123
and
Slipstream
, can be used to install non-Windows operating systems, say GNU/Linux or Android, on the devices protected by Secure Boot.
Moreover, according to the
blog post
published by researchers, it is impossible for Microsoft to fully revoke the leaked keys, potentially giving law enforcement (
such as FBI and NSA
) special backdoor that can be used to unlock Windows-powered devices in criminal cases.
The issue actually resides in the Secure Boot policy loading system, where a specially signed policy loads early and disables the operating system signature checks,
the reg
reports.
This specific Secure Boot policy was created and signed by Microsoft for developers, testers, and programmers for debugging purposes.
"During the development of Windows 10 v1607 'Redstone,' MS added a new type of secure boot policy. Namely, "supplemental" policies that are located in the EFIESP partition…" researcher said.
"...a backdoor, which MS put into secure boot because they decided to not let the user turn it off in certain devices, allows for secure boot to be disabled everywhere!"
Yesterday, Microsoft released
August Patch Tuesday
that includes a security patch for designing flaw in Secure Boot for the second time in two months, but unfortunately, the patch is not complete.