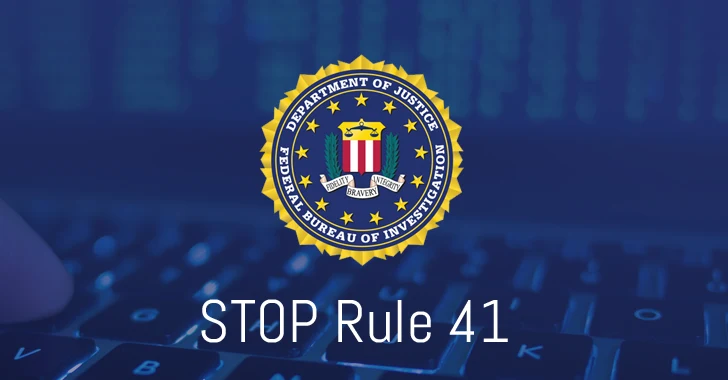 We have been hearing a lot about Rule 41 after the US Department of Justice has pushed an update to the rule.
The
change to the Rule 41
of the Federal Rules of Criminal Procedure grants the FBI much greater powers to hack legally into any computer across the country, and perhaps anywhere in the world, with just a single search warrant authorized by any US judge.
However, both civil liberties groups and tech companies have blasted the proposed change, saying it is an affront to the Fourth Amendment and would allow the cops and Feds in America to hack remotely into people's computers and phones around the world.
Google, Electronic Frontier Foundation (EFF), Demand Progress, FightForTheFuture, TOR (The Onion Router), Private Internet Access and other VPN providers have joined their hands to block changes to Rule 41.
"The U.S. government wants to use an obscure procedure—amending a federal rule known as Rule 41— to radically expand their authority to hack," the EFF says. "The changes to Rule 41 would make it easier for them to break into our computers, take data, and engage in remote surveillance."
Back in March, a judicial panel approved the proposed change by the DoJ, and then the U.S.
Supreme Court approved the rule change
a month later, allowing law enforcement to obtain a warrant to hack into computers as well as phones anywhere in the world.
This means that users of hidden services could all become vulnerable, no matter which tool they are using, including TOR, VPNs, and proxies.
However, the rule change does not stop here.
"[The rule change] might also extend to people who deny access to location data for smartphone apps because they do not feel like sharing their location with ad networks," the EFF warned in April.
"It could even include isundividuals who change the country setting in an online service, like folks who change the country settings of their Twitter profile to read uncensored Tweets."
The rule change is set to go into effect on December 1st if it is not stopped.
Therefore, in order to stop the rule change that many sees as a danger to computer users' security worldwide, Senators Ron Wyden and Rand Paul have introduced a bill, and 50 organizations including privacy tool providers, public interest groups, and Internet companies have written a letter to Congress opposing the changes.
In the
letter
, Google, EFF, Demand Progress, TOR, FightForTheFuture, Private Internet Access, other VPN providers, Golden Frog, Hide My Ass, and many other organizations have urged Congress to "
consider and debate
" the implications of the rule change.
You can also take part in the
No Global Warrants petition
, encourage Congress to block this change to Rule 41 of the Federal Rules of Criminal Procedure before it becomes permanent in December this year.We have been hearing a lot about Rule 41 after the US Department of Justice has pushed an update to the rule.