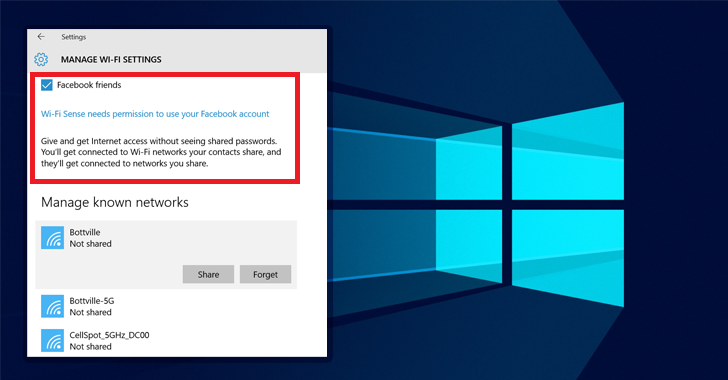 Microsoft has finally decided to remove one of its controversial features
Wi-Fi Sense
network sharing feature from Windows 10 that shares your WiFi password with your Facebook, Skype and Outlook friends and enabled by default.
With the launch of
Windows 10
last year, Microsoft introduced
Wi-Fi Sense network sharing
feature aimed at making it easy to share your password-protected WiFi network with your contacts within range, eliminating the hassle of manually logging in when they visit.
This
WiFi password-sharing option
immediately stirred up concerns from Windows 10 users especially those who thought the feature automatically shared your WiFi network with all your contacts who wanted access.
Must Read:
Here's How to run Ubuntu Linux on Windows 10
.
But Wi-Fi Sense actually hands over its users controls so they can select which networks to share and which contact list can access their Wi-Fi.
Also, the feature doesn't share the actual password used to protect your Wi-Fi, but it does give your contacts access to your network.
However, the biggest threat comes in when you choose to share your Wi-Fi access with any of your contact lists.
But, Who really wants to share their Wi-Fi codes with everyone in the contacts?
Of course, nobody wants.
Since the feature doesn't give you the option to share your network with selected individuals on Facebook, Skype or Outlook, anyone in your contact list with a malicious mind can perform Man-in-the-Middle (MITM) attacks.
Also Read:
How to Turn Off Windows 10 Keylogger
We have written a
detailed article on Wi-Fi Sense
, so you can read the article to know its actual security threat to Windows 10 users.
Although Microsoft defended Wi-Fi Sense network-sharing as a useful feature, Windows users did not give it a good response, making the company remove WiFi Sense's contact sharing feature in its latest
Windows 10 build 14342
.
"The cost of updating the code to keep this feature working combined with low usage and low demand made this not worth further investment," said Microsoft Vice President Gabe Aul. "Wi-Fi Sense, if enabled, will continue to get you connected to open Wi-Fi hotspots that it knows about through crowdsourcing."
Microsoft just released its latest Windows 10 build for testers. The company will remove the Wi-Fi Sense password sharing feature as part of its
Anniversary Update
due in the summer, but will keep the Wi-Fi Sense feature that lets its users connect to open networks.