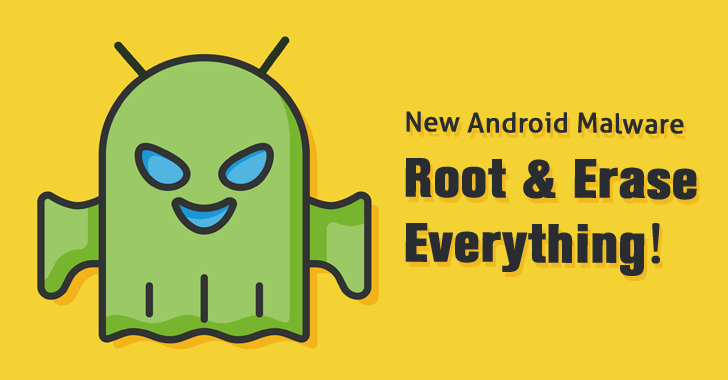 A new Android malware has been making waves recently that have the capability to gain root access on your smartphone and
completely erase your phone's storag
e.
Dubbed Mazar BOT, the serious malware program is loaded with so many hidden capabilities that security researchers are calling it a dangerous malware that can turn your smartphone into a zombie inside hacker's botnet.
Mazar BOT was
discovered
by Heimdal Security while the researchers at the firm were analyzing an SMS message sent to random mobile numbers and locations.
How Mazar BOT Works
Despite other Android malware that distributes itself by tricking users into installing an app from third-party app stores, Mazar spreads via a spam SMS or MMS messages that carry a link to a malicious APK (Android app file).
Once the user clicks the given link, he/she'll be ending up downloading the APK file on their Android devices, which when run, prompts the user to install a new application.
This new Android app has a generic name, MMS Messaging, that asks for admin level privileges. Most of the users end up giving the root access to the malicious app due to its common name.
What Makes Mazar BOT So Nasty
Once gaining root access on the victim's device, Mazar BOT can do variety of nasty stuff on your Android devices, like:
Gain boot persistence to help survive device restarts
Send and Read your SMS messages
Make Calls to your contacts
Read the phone's state
Plague phone's control keys
Infect your Chrome browser
Change phone settings
Force the phone into sleep mode
Query the network status
Access the Internet
Wipe your device's storage (the most critical capabilities of all)
TDR identifies and mitigates threats. Learn about the indispensable role of SSPM in ensuring your identity remains unbreachable.
Supercharge Your Skills
Mazar BOT Browses Internet Anonymously Using TOR
Besides these tasks, Mazar BOT can also download a legitimate TOR (The Onion Router) Android app on your smartphone and install it too, even without your consent or permission.
Using TOR app, the malware would be able to surf the Internet anonymously via the Tor network.
Once the malware installs TOR on victim's phone, Mazar BOT sends a "Thank you" message to an Iranian phone number (9876543210), along with the device's location.
In some instances, Mazar BOT also installs an Android app called Polipo Proxy that establishes a proxy on the device, allowing the malware's author to spy on victim's Web traffic and carry out Man-in-the-Middle (MitM) attacks.
Who is Behind This Awful Malware?
Mazar BOT is believed to be distributed by a Russia-based group of cyber-criminals.
One clue to this assumption is: Mazar BOT cannot be installed on Android smartphones in Russia, as its source code includes instructions on how to stop the malware installation process on phone configured with the Russian language.
Another clue is: There is an unwritten law in Russia that says "if cyber criminals don't go after Russians, Russian authorities will not go after them." Moreover, there is no such indication yet that this Mazar BOT campaign has affected anyone in Russia.
Until now, Mazar BOT for Android has been advertised for sale on several Russian underground (Dark Web) forums, but this is the first time this creepy code has been abused in active attacks.
How to Protect Yourself from Mazar BOT
There are standard protection measures you need to follow to remain unaffected:
NEVER click on links in SMS or MMS messages sent to your phone.
Go to Settings → Security → Turn OFF "Allow installation of apps from sources other than the Play Store" option.
Always keep an up-to-date Anti-virus app on your Android devices.
Avoid unknown and unsecured Wi-Fi hotspots and Keep your Wi-Fi turned OFF when not in use.