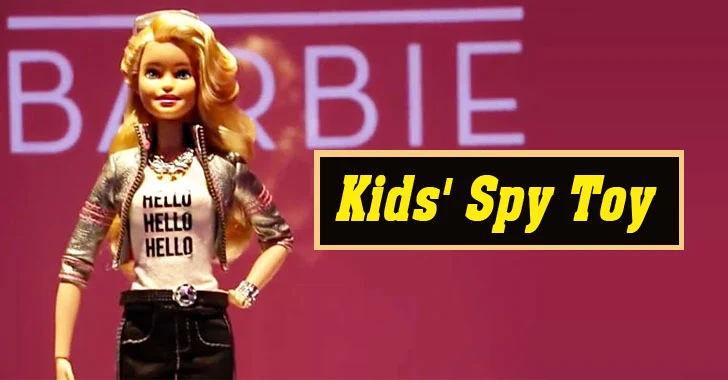 Smartphones, Smart TVs, Smart Watches, Cell Phone Towers, Messaging services… but now, What's Next?
Smart Toys? Yes, probably.
Tech expert is warning that 'Smart Toys' could now be used by the government intelligence agencies to spy on suspects.
As part of the Investigatory Powers Bill, children's connected toys could be the next item to be used by the government in an effort to spy on people, claims Antony Walker, deputy CEO of technology trade association techUK.
The Snooper's Charter – Government's Spy Eyes
While speaking to the UK parliament's Commons Science and Technology Committee, Walker warned MPs of how the Draft Investigatory Powers Bill could be abused to turn any Internet-connected device into a snooping tool.
The draft
Investigatory Powers Bill
(or the
Snooper's Charter
) would make it the legal duty of
Internet service providers (ISPs)
to help and assist the British intelligence agencies in hacking into various connected devices if requested to do so.
Walker explained that anything connected to the Internet could theoretically be hacked into remotely and used by the authorities to snoop on criminals and suspects.
Smart Toys to Spy on People
"A range of devices that have been in the news recently, in relation to a hack, are children's toys that children can interact with," Walker told the committee. "These are devices that may sit in a child's bedroom but are accessible."
The innocent looking smart devices, including Smart Toys, such as Hello Barbie and My Friend Cayla – that come Wi-Fi enabled and have microphones and cameras built-in – could become spying tools for intelligence agencies to gain information such as:
What you just said.
What you watch on your home and what you don't.
The actual location of your washing machine, laundry baskets and dishwasher tables.
Where you put your keys, credit card, passport, and wallet.
"In theory, the manufacturer of those products could be the subject of a warrant to enable equipment interference with those devices," Walker said. "So the potential extent, I think, is something that needs to be carefully considered."
Walker also emphasised that the government should carefully consider how the "equipment interference" warrants should be used for electronic gadgets and make sure they're "only used when necessary and proportionate for a legitimate purpose."
Securing Smart Toys
Moreover, the security on connected devices should be tighter because it is not just government, but also criminals that can hack into these devices.
After concerns were
raised
early December by Bluebox Labs, Barbie's manufacturer Mattel reportedly tightened the security on Hello Barbie that allows kids to talk to dolls over a cloud server connection.
It's thought that other smart toy manufacturer companies will shortly follow the suite, especially after the news that Hong Kong toymaker
VTech's systems were hacked
, compromising
4.8 million records
.