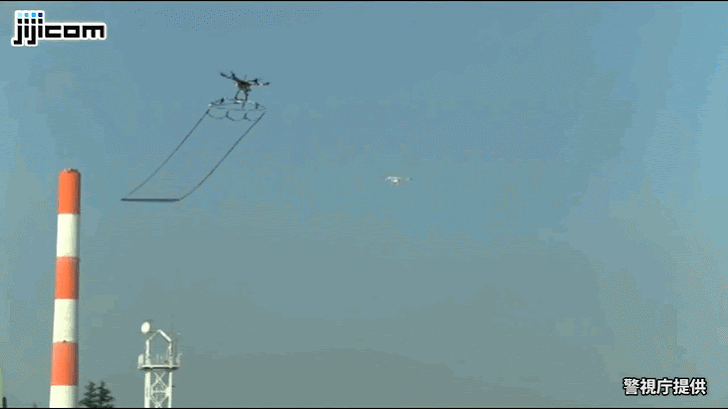 So how do you catch rogue drones that take your sky?
With another Giant Drone, of course!
This is exactly how the Tokyo Metropolitan Police Department is catching unwanted and potentially dangerous drones flying over the city, according to Japan Today.
The department is launching an anti-drone squad in order to prevent people from flying their drones overcrowded residential areas and important buildings in Tokyo, including the Prime Minister's Office.
How So?
Instead using a dragnet on the ground, the police authorities will use a drone armed with a net to scoop up the suspected drones and carry them away to safety.
Watch the Video:
The Tokyo Metropolitan Police have also released a video that shows its special Net-Wielding Drone in action. You can look at the video above.
It looks like the police are using a DJI Spreading Wings 900 with a 3 x 2 m² of Net tied to its feet.
As soon as a rogue drone is spotted in the sky, the squad will first attempt to contact its operator and order them to land the drone.
However, if the drone operator fails to comply, the anti-drone squad will release their Net-Wielding Drone to capture the drone and drag it away to safety.
This move came in the wake of last April's incidence when they found a suspicious drone carrying radioactive material from the Fukushima Prefecture onto the roof of the Japan Prime Minister's Office.