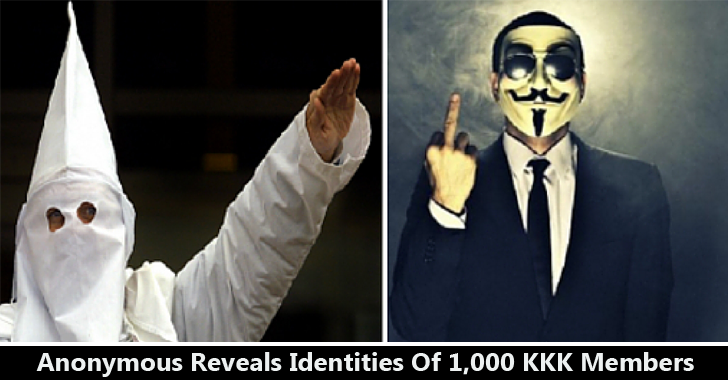 The online hacktivist group Anonymous has followed through on its promise to disclose the identities of hundreds of Ku Klux Klan members.
As promised, Anonymous posted a link to a
Pastebin
account with the names, aliases, Google Plus profiles, Facebook accounts and other identifying information of roughly 1,000 individuals the group believes are members of the Ku Klux Klan.
The hackers behind the leak
tweeted
a link to a Pastebin on a Twitter account,
Operation KKK
(
@Operation_KKK
) believed to be controlled by them.
Ku Klux Klan (KKK) is classified as a White Supremacist Racist group by the Anti-Defamation League and the Southern Poverty Law Center, allegedly having total 5,000 to 8,000 members.
"We hope Operation KKK will, in part, spark a bit of constructive dialogue about race, racism, racial terror and freedom of expression, across group lines. Public discourse about these topics can be honest, messy, snarky, offensive, humbling, infuriating, productive, and serious all at once," Anonymous wrote in the Pastebin post.
"The reality is that racism usually does NOT wear a hood, but it does permeate our culture on every level. Part of the reason we have taken the hoods off of these individuals is not because of their identities, but because of what their hoods symbolize to us in our broader society."
Anonymous also notes that the group collected the information of KKK members over 11 months through public documents, "digital espionage," interviews with experts and information from social media accounts of KKK affiliates.
However, the group has not published any personal information about the KKK members.