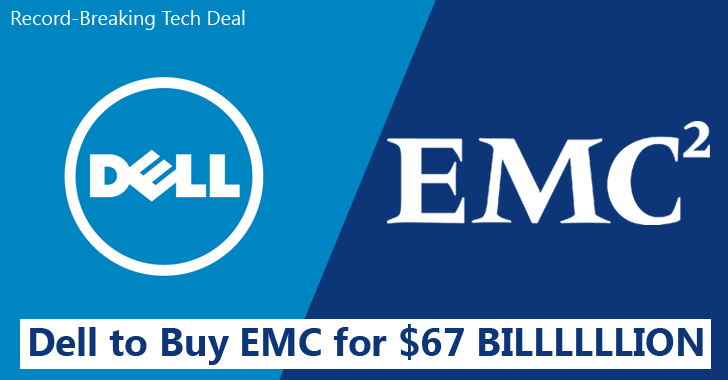 Yes, Dell is going to acquire data storage company EMC in a deal worth $67 BILLLLLLION – the largest tech deal of all time. It's record-breaking...
Computing giant Dell on Monday finally confirmed that the company is indeed going to purchase the company for creating what it calls "the world's largest privately-controlled, integrated technology company."
Most of you might not have heard of EMC corporation, but it is a tech titan that operates many of the services you use nowadays.
EMC offers data center storage and data processing for big technology companies, and now it is been acquired by Dell.
"The combination of Dell and EMC creates an enterprise solutions powerhouse bringing our customers industry leading innovation across their entire technology environment," Michael Dell, CEO and chairman of Dell, said in a statement.
The acquisition will benefit Dell to create a new company that will sell a broad range of both consumer as well as IT products, including:
Personal computers
Servers and data storage services for use in corporate data centers
Virtualization software that allows those data centers to run efficiently
EMC stockholders will receive about $27.25 per share in cash and a tracking stock in VMware, a cloud software company bought by EMC in 2004, all of which will be worth $33.15 per share.
However, VMware Inc. will remain an independent, publicly trading company under EMC on the New York Stock Exchange (NYSE).