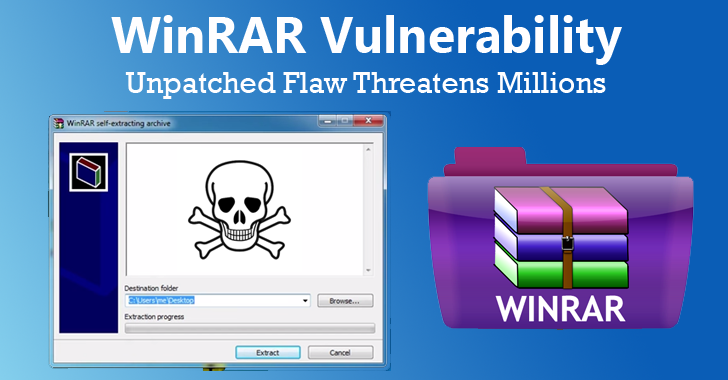 Beware Windows Users!
A new dangerous unpatched Zero-day Vulnerability has been detected in the latest version of WinRAR affects over millions of users worldwide.
WinRAR is one of the most popular utility program used to compress and decompress files with more than 500 Million installations worldwide.
The WinRAR RCE vulnerability lie under the 'High Severity' block, and scores 9 on CVSS (Common Vulnerability Scoring System).
HOW WINRAR VULNERABILITY WORKS?
Let's take a look at its actions.
The vulnerability can be used by any attacker smartly to insert a malicious HTML code inside the "Text to display in SFX window" section when the user is creating a new SFX file.
WinRAR SFX is an executable compressed file type containing one or more file and is capable of extracting the contents of its own.
According to proof-of-concept video published by Espargham, latest WinRAR vulnerability allows remote hackers to execute arbitrary code on a victim's computer when opening an SFX file (self-extracting file).
Successful Exploitation requires low user interaction, and results in compromising users':
The major disadvantage arises because of SFX files, as they start functioning as soon as the user clicks on them. Therefore, users cannot identify and verify if the compressed executable file is a genuine WinRAR SFX module or a harmful one.
NO PATCH YET AVAILABLE
Unfortunately, there is no patch yet available to fix this vulnerability. However, Windows users are advised to:
Use an alternate archiving software
Do not click files received from unknown sources
Use strict authentication methods to secure your system
"As for any exe file, users must run SFX archives only if they are sure that such archive is received from a trustworthy source. SFX archive can silently run any exe file contained in an archive, and this is the official feature needed for software installers", WinRAR developer team at RARLAB quoted.