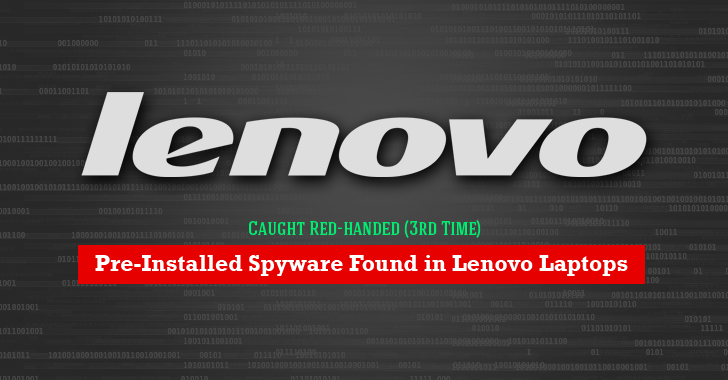 Lenovo has once again been caught installing spyware on its laptops and workstations without the user's permission or knowledge.
One of the most popular computer manufacturers is being criticized for selling some refurbished laptop models pre-installed with invasive marketing software that sends users data directly to the company.
This is not first time Lenovo has allegedly installed spyware onto consumers PCs.
Earlier this year, Lenovo was caught red-handed for selling laptops pre-installed with Superfish malware that opened up doors for hackers.
In August, Lenovo again got caught installing unwanted and non-removable crapware into part of the BIOS reserved for custom drivers.
Lenovo Laptops comes Pre-installed with 'Spyware'
Now, the Chinese computer manufacturer is making news once again for embedding tracking software into its laptops and workstations from Lenovo ThinkPad, ThinkCentre, and ThinkStation series.
Michael Horowitz from Computerworld has
discovered
a software program, called "
Lenovo Customer Feedback Program 64
," that operates daily on these systems and can be categorized as
Spyware
.
The purpose of this program is to send customers' feedback data to Lenovo servers. According to Horowitz, the company has mentioned this in its EULA, but he "can not recall ever being asked [for] a Customer Feedback program" while ever setting up his Lenovo PC.
Horowitz also found that this program includes some other files, which is as follows:
Lenovo.TVT.CustomerFeedback.Agent.exe.config
Lenovo.TVT.CustomerFeedback.InnovApps.dll
Lenovo.TVT.CustomerFeedback.OmnitureSiteCatalyst.dll
One of these files belongs to Omniture, which is an online marketing and Web analytics company, which is included to track and monitor users' activities and send that data to this online marketing agency.
Lenovo does mention on its website that there may be software program installed on its systems that connect to its online servers, but it does not mention anything about sending your data for financial profit.
How to Remove Lenovo Spyware?
In order to remove 'Lenovo Customer Feedback Program 64' from your affected machines, you have to do it manually. Follow these simple steps:
Know your System Type (whether it's a 32-bit or 64-bit version of Windows)
Download TaskSchedulerView
Now, search your Lenovo PCs for Lenovo Customer Feedback Program 64
Disable Lenovo Customer Feedback Program 64 daily task from running
Additionally, you can also rename the "C:\Program Files (x86)\Lenovo"