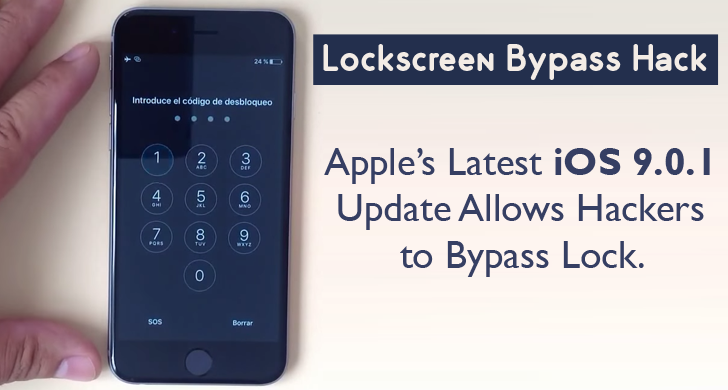 iOS 9.0.1
– Apple's first update to its new iOS 9 mobile operating system, came out on Wednesday, addressed several bugs in its software.
Yes, the serious flaw in iOS 9 that allows anyone – with physical access of your iPhone or iPad – to bypass your device's lock screen and get into your contacts and personal photographs, also Works on iOS 9.0.1.
Rodriguez published a new video detailing a step-by-step explanation on how to bypass the passcode on iOS 9 and iOS 9.0.1 device, using the benevolent nature of Apple's personal assistant Siri.

The lock screen bypass vulnerability works on all iOS versions from iOS 5.1.1 to the latest released iOS 9.0.1.
Mitigation
So, until Apple rolls out an update to patch this bug, the only way available to iPhone users to mitigate the issue is to disable Siri from being accessed from the lock screen.
To disable Siri on the lock screen, follow these simple steps:
Go to Settings
Select Touch ID & Passcode
Enter your passcode in the prompt
Look for "Allow access when locked" section and Disable Siri
The iOS lock screen bug is similar to that fixed in the latest version of Android Lollipop. The
Android lock screen bypass
bug was far more complex than the current iOS bypass, as well as the impact was also worse.
The Android lock screen bypass gave attackers access to all important files as well as the ability to install malicious apps on the affected device.