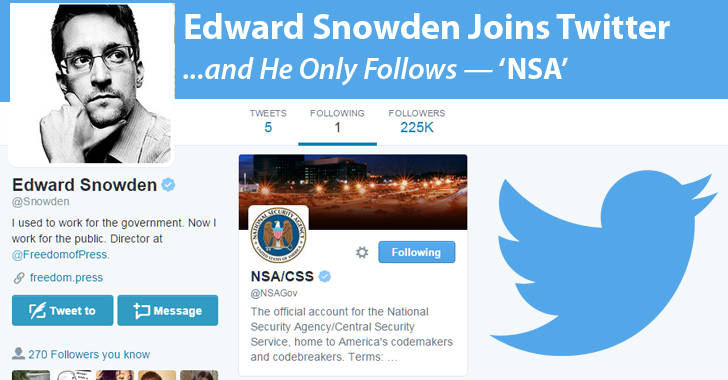 Whistleblower Edward Snowden just joined Twitter, and his first tweet seems to be directed at the US National Security Agency (NSA).
Yes, the world's most popular whistleblower and data privacy advocate has finally joined Twitter just two hours ago, and his first tweet came, "Can you hear me now?"
Snowden has gained more than 260,000 followers in just less than two hours, but he is currently following only one account: @NSAGov, the official Twitter account for the National Security Agency.
Twitter has verified Snowden's Twitter account (
@Snowden
), and his Twitter bio provides a short summary of his prolonged situation.
Snowden's Twitter bio reads, "I used to work for the government. Now I work for the public. Director at @FreedomofPress."
Snowden is listed as director of Freedom of the Press, a foundation dedicated to ensuring transparency in journalism in adverse situations.
The former NSA contractor Edward Snowden sought asylum in Russia after publicly leaking a trove of classified documents belongs to the NSA exposing the extent of the US Government's Global surveillance programs.
For this, the 32-year-old whistleblower is facing espionage and theft charges in the United States.
In his second tweet, Snowden responded to the astrophysicist Neil deGrasse Tyson, who welcomed him to Twitter.
He writes, "@neiltyson Thanks for the welcome. And now we've got water on Mars! Do you think they check passports at the border? Asking for a friend."
You can also follow Snowden on Twitter (
@Snowden
).
Read More: