If you are also one of those millions Android fans, for whom the brand has turned into an insane religious devotion, then Apple has something that could give you second thoughts.
Apple is losing control, wants you to ditch your Android!
Few days ago, Apple made its debut on Google Play Store with its First App, called "
Move to iOS
", for Android Users.
With its first ever Android app,
Apple tried to kill Android Community and fans, But failed badly!
Apple's new app works as an "Uncalled Assistance" in a manner where you have bought a new iPhone, iPad or iPod Touch and are confused about how to migrate data from your current Android device.
Apple's 'Move to iOS' app is designed to help Android users transfer their content quickly and safely from an Android device to an iOS device.
The Apple App will help you in Migrating Data, like:
Calendars
Camera photos and videos
Contacts
Mail accounts
Message history
Web bookmarks
How does It work?
Now, it is time for the synchronization between the two devices shall begin.
The app will create a private Wi-Fi session from your iOS device and will pick your Android device loaded with Move to iOS app for the transfer of data to start.
Then open 'Move to Android' interface on your iOS device and after you Tap start, a 10-digit security code will pop-up which you'll have to enter on your Android device with 'Move to iOS' screen on display.
After this, you can select your content from your Android device that you wish to transfer by tapping Next button and set up your new iOS device.
However, remember one thing, don't let any distractions like a phone call to occur, because if they do the transfer will stop, and you'll have to start all over again.
For smooth transfer of data, choose a time when the chances of getting distracted are less.
Android Fans Reacted (More than 22k Negative Reviews) Angrily!
Unsurprisingly, More than 22,000 Android users reacted angrily on
Google Play Store
, and branded Apple's app in review section as: '
Pointless
', '
Useless
', '
Garbage
', '
Inferior
' and thousand of negative comments.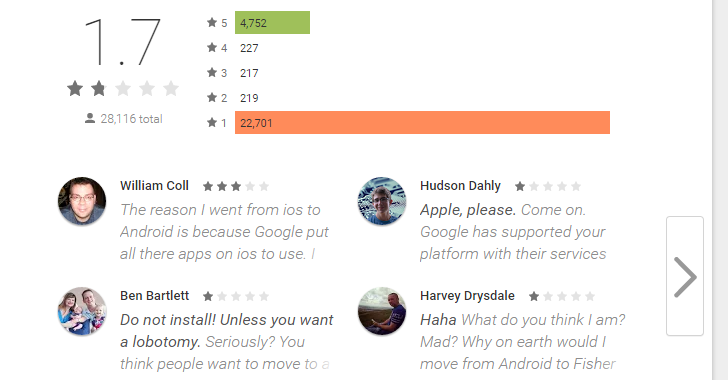 Why? While going through the user's responses at Play Store, we found some interesting reviews:
"Come on. Google has supported your platform with their services from the start, even as your rival. I barfed a little in my mouth when I heard that this would be your first app on the Android platform, but this is what I've come to expect out of Apple as a company.", Android users commented.
"Seriously? You think people want to move to a restricted ecosystem that won't even allow you to try apps before you buy??" Another Android users commented.
"Why? Now you want Android users to switch to your so called premium products where you copy features from other ecosystem and say pathbreaking technology. Don't need one." and one more.
Also, at the time of writing: More than 22,650 Android users have posted their Negative Reviews, with 1-star on Play Store, as shown.
So, if you are planning to migrate, we'd suggest you to choose wisely! Good Luck.