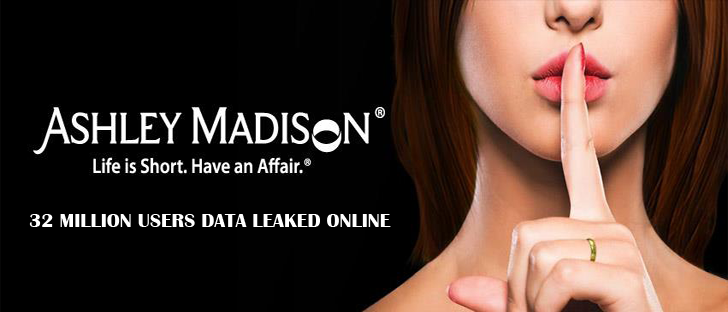 Well, Cheaters are about to have a very Bad Night Today!
Hackers who claimed to have
stolen customers' data from Ashley Madison
, the popular online casual sex and cheating website with a tagline "
Life is short. Have an affair
," recently
leaked nearly 10GB of its users' personal data
online.
The group of hackers, which called itself The Impact Team, has reportedly leaked personal data of Ashley Madison customers on the so-called dark web, meaning the data is accessible anyone on encrypted browsers.
The leaked data includes personal details of nearly 36 Million Ashley Madison customers' accounts, which includes:
Username
First and Last Names
Email addresses
Hashed passwords
Partial Credit Card data
Street Names
Phone Numbers
Records documenting 9.6 Million Credit Card Transactions
No Mercy for You Cheaters!
The
Impact Team stole the data
from the popular cheating website last month and threatened the company to reveal all associated data of its 37 Million cheating customers
unless the site for the marital affair was taken down
.
The hackers
leaked the data
because Ashley Madison's parent company, Avid Life Media, refused their demand to take down the site.
"Avid Life Media has failed to take down Ashley Madison and Established Men," the hackers released a statement with the leaked data. "We have explained the fraud, deceit, and stupidity of ALM and their members. Now everyone gets to see their data."
The Hacker News did not download the data, so wasn't able to confirm its authenticity. However, those who have already accessed the data from the dark web say they're finding all kinds of hot and juicy chats.
US Government and Military Officials Won't be Able to Sleep Tonight
Yes, the leaked data also include more than 15,000 e-mail addresses that are hosted on US government and military servers that uses the .gov and .mil top-level domains.
One online user also found a
whole host of email addresses that appear to belong to members of the British government
and
posted
on his Twitter account.
The Federal Bureau of Investigation (FBI) is investigating this massive theft alongside the Royal Canadian Mounted Police and local police, Avid Life Media said.