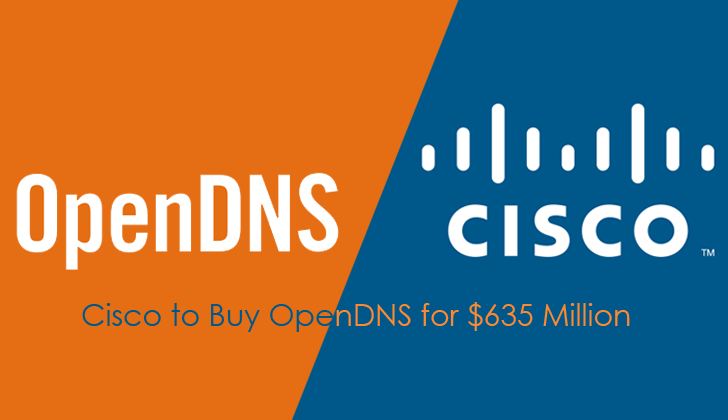 Cisco, a networking giant that offers traditional network edge protection, has announced that the company is buying
cloud-based security company OpenDNS for $635 Million
.
Yes, OpenDNS, whose Domain Name Services (DNS) you might have used to avoid regional restrictions or to improve your Internet connection.
However, Cisco is not making the acquisition of OpenDNS for any of the above reasons. Instead, the networking giant says it will boost its own cloud security, adding "broad visibility and threat intelligence from the OpenDNS cloud-delivered platform."
The aim is to offer you the protection against cyber attacks on your corporate network from any device, anywhere, anytime, and to predict threats before they strike.
Hilton Romanski
, who leads business development at Cisco, wrote in his
blog post
:
"The acquisition will extend our ability to provide customers enhanced visibility and threat protection for unmonitored and potentially unsecure entry points into the network, and to quickly and efficiently deploy and integrate these capabilities as part of their defense architecture."
Since OpenDNS is easy to deploy at large scale, it is expected to fulfil the increased need for security with the fast-growing Internet of Things (IoT) believed to be more than 50 Billion Internet-connected devices by 2020.
The OpenDNS team will join the Cisco Security Business Group after finalizing the deal, which is expected to be in the first quarter of fiscal 2016.
According to Cisco, the company will pay $635 Million in cash and assumed equity awards, as well as retention-based incentives for OpenDNS.
If you are wondering about the OpenDNS' existing services, then relax. As David Ulevitch, founder and CEO of OpenDNS
says
,
OpenDNS' services aren't going away and will continue to run as-it-is
under the deal, so you will not have to search around for any alternative.