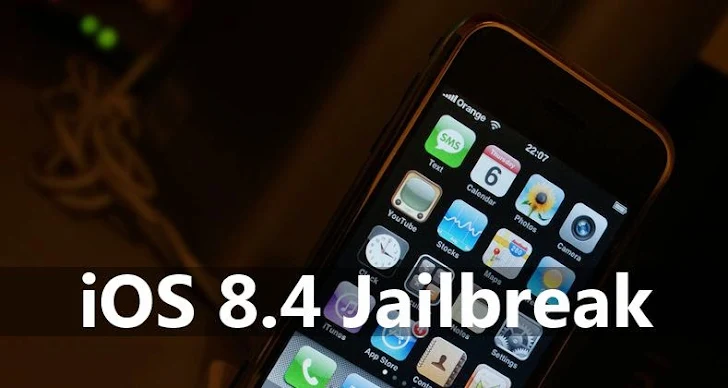 Quite surprising but the just released Apple's iOS 8.4 beta has been jailbroken by a well-known hacker.
Yes, the first beta of iOS 8.4 released by Apple to the developers last week has been jailbroken by Stefan Esser, commonly known as "i0n1c" in the jailbreak community.
i0n1c has also shared a video proof-of-concept, titled "iOS 8.4 Beta 1 Jailbreak Preview 1," showing…
...an iPhone 6 Plus model (that runs on iPhone 7.1) powered with iOS 8.4 Beta 1 has been jailbroken with Cydia icon showcased on the Home screen.
In order to prove the jailbreak on iOS 8.4 beta 1, the hacker shows off the Apple Watch companion app, the newly redesigned Music app, and the new Emoji keyboard as well, while giving the video demonstration.
The video demonstration by the hacker proved an actual jailbreak for iOS 8.4 beta 1, but don't expect a public iOS jailbreak tool iOS 8.4 or any other firmware from i0n1c.
No doubt this seems to be a great news for all Jailbreakers, but actually it's not…
...because i0n1c has not released any iOS jailbreak tool for iOS 8.4 beta 1 and neither he'll. So, don't get excited for an iOS jailbreak tool for 8.4 beta 1.
i0n1c has contributed to the development of untethered iOS jailbreak tools in the past, and this video is his personal work that he is proud of.
According to the hacker, the vulnerability he discovered is not a new flaw in Apple's iOS. "Instead, it is inside the code virtually forever," i0n1c says. However, this is incredibly interesting that the new code had nothing in common with CyberElevator for iOS 7.1.1.
The hacker posted the video along with a detailed note, which reads:
"Today I am delighted to share this video of a proof of concept iOS 8.4-beta 1 jailbreak that I was working on the last 4 days….I am not showing persistence or an untether at the moment because something is broken with it. But hey this is just a first proof of concept."
An untethered iOS jailbreak is a jailbreak where your iOS devices do not require any reboot with a connection to an external device capable of executing commands on the device.
No matter he did not release any iOS jailbreak tool for 8.4 beta 1, but hopefully we can expect one from TaiG or PanGu team that work on finding iOS exploits. So keep an eye on them if you love Jailbreaking your iPhones.