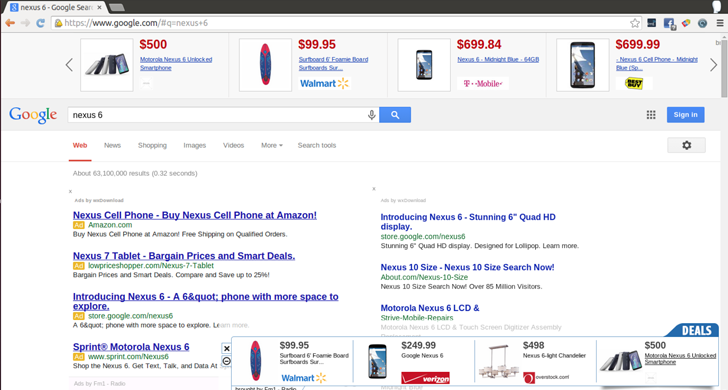 In the War against
Ad injectors
, Google has started removing ad-injecting extensions for its Chrome browser after it discovered as many as
200 Chrome extensions
that exposed Millions of its users to malicious software and fraudulent activities.
While working with a team of researchers from the University of California, Berkeley, the search engine giant found that over 5 percent of its users were infected with '
Ad Injectors
' —
software that inserts ads
or replace existing ads into the pages you visit while browsing the web.
In last three months, Google received more than 100,000 complaints from its Chrome users about ad injection, which is far more than what the company receives for network errors, performance problems, or any other issue.
Ad Injectors are sometimes more than just intrusive. A visitor to a website can be tricked into downloading an unwanted software and programs that could result in a major security risk, just what happened in the recent
Superfish
incident.
WHAT GOOGLE FOUND?
While conducting the
research
, researchers examined more than 100 Million page views of Google websites across Chrome, Firefox, and Internet Explorer (IE) on different operating systems globally, and here's what they found:
Ad injectors are not an issue with only Windows operating system. Instead they are present on all operating systems including Mac and affects all web browsers including Chrome, Firefox, and IE.
More than 5 percent of users visiting Google websites are infected by at least one ad injector. Within the group, half of the users have at least two injectors installed, and almost one-third have at least four.
34 percent of Chrome extensions injecting advertisements were classified as "outright malware."
Researchers discovered 192 fraudulent Chrome extensions that infected about 14 Million users.
GOOGLE BLOCKED ABOUT 200 CHROME EXTENSIONS
However, the search engine giant has since disabled those fraudulent Chrome extensions. Moreover, Google is also refining the techniques it used to catch these kinds of deceptive extensions to scan all new and updated extensions.
In addition, the company is also making changes to its AdWords policies in order to prevent advertisers from offering users shady downloads.
"We [are] constantly working to improve our product policies to protect people online," software engineer Nav Jagpal of Google wrote in a blog post. "We encourage others to do the same. We [are] committed to continuing to improve this experience for Google and the Web as a whole."
However, users also need to beware of what they download and install on their computers and how they manage the security of their systems, because, in the end, it is only you who need to take care of your security.