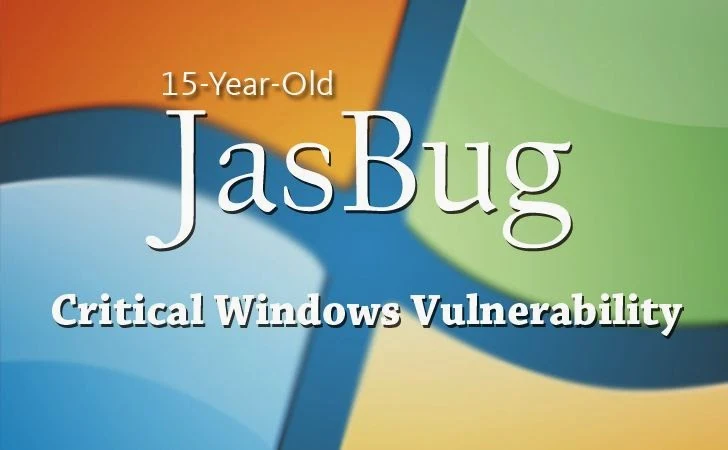 Microsoft just issued a critical patch to fix a 15-year-old vulnerability that could be exploited by hackers to remotely hijack users' PCs running all supported versions of
Windows operating system
.
The critical vulnerability — named "
JASBUG
" by the researcher who
reported
the flaw — is due to a flaw in the fundamental design of Windows that took Microsoft more than 12 months to release a fix. However, the flaw is still unpatched in Windows Server 2003, leaving the version wide open to the hackers for the remaining five months.
HACKERS CAN EASILY HIJACK YOUR WINDOWS MACHINE
The vulnerability (CVE-2015-0008) could allow an attacker to easily hijack a domain-configured Windows system if it is connected to a malicious network – wirelessly or wired, giving attacker consent to do various tasks including, to go forth and install programs; delete, alter or peruse users' data; or to create new accounts with full user rights.
However, Jasbug vulnerability do not affects home users because they are not usually domain-configured, but the bug is a massive discomfort for IT pros who typically connect to business, corporate, or government networks using the Active Directory service.
The vulnerability, classified as
MS15-011
, allows hackers who are in a position to monitor traffic passing between the user and the Active Directory network to launch a Man-in-the-Middle (MitM) attack in order to execute malicious code on vulnerable systems.
AFFECTED WINDOWS VERSIONS
Windows Vista
Windows 7
Windows 8
Windows RT
Windows 8.1
Windows RT 8.1
Windows Server 2003
Windows Server 2008
Windows Server 2008 R2
Windows Server 2012
Windows Server 2012 R2
HOW JASBUG WORKS
Microsoft, on its
blog post
, provided the following example of how a malicious hacker could exploit the Jasbug vulnerability on a machine connected over open Wi-Fi at a coffee shop:
This is an example of a 'coffee shop' attack scenario, where an attacker would attempt to make changes to a shared network switch in a public place and can direct the client traffic an attacker-controlled system.
In this scenario, the attacker has observed traffic across the switch and found that a specific machine is attempting to download a file located at the UNC path: \\10.0.0.100\Share\Login.bat .
On the attacker machine, a share is set up that exactly matches the UNC path of the file requested by the victim: \\*\Share\Login.bat.

The attacker will have crafted the contents of Login.bat to execute arbitrary, malicious code on the target system. Depending on the service requesting Login.bat, this could be executed as the local user or as the SYSTEM account on the victim's machine.

The attacker then modifies the ARP table in the local switch to ensure that traffic intended for the target server 10.0.0.100 is now routed through to the attacker's machine.
When the victim's machine next requests the file, the attacker's machine will return the malicious version of Login.bat. This scenario also illustrates that this attack cannot be used broadly across the internet – an attacker need to target a specific system or group of systems that request files with this unique UNC.
MORE PATCHES TO APPLY
In addition to Jasbug vulnerability, Microsoft released two other security updates that are rated critical, both with the potential to allow
remote code execution
on a vulnerable machine.
MS15-009: The update patches 41 reported vulnerabilities, one publicly disclosed flaw and 40 privately reported vulnerabilities, in Internet Explorer affecting all versions of the browser from version 6 and above on all operating systems.
MS15-010: This security update patches six vulnerabilities, one publicly disclosed flaw and remaining reported privately, in Windows 7 and above, and server software after Windows Server 2008 R2 and later editions. The vulnerabilities are due to the way a Windows kernel-level component handles TrueType fonts.
The remaining six patches in Microsoft's February Patch update are all rated "important" by Redmond. Two vulnerabilities in Microsoft Office could allow RCE and security feature bypass, and bugs in Windows that could allow elevation of privilege, security feature bypass and information disclosure. Also a vulnerability in Virtual Machine Manager (VMM) could give an attacker elevated privileges.