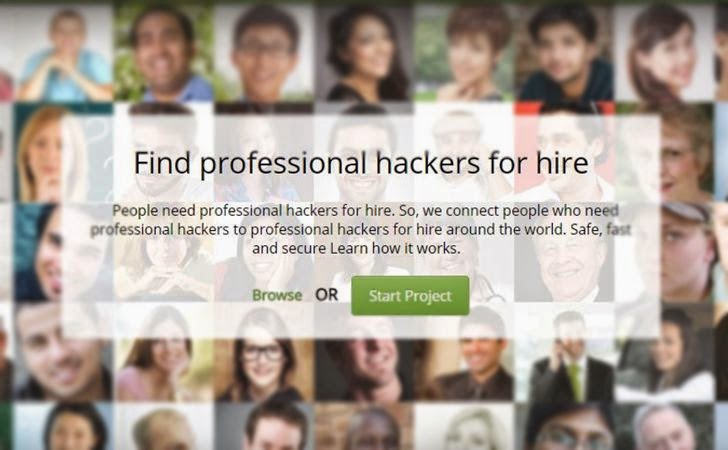 Want to hack someone's Facebook account? or Gmail account? or break into somebody's network?
But don't have hacking skills to do so. There's no need to worry at all. A new service is out there for you guys where you can search for professional hackers and hire them to accomplish any hacking task.
Dubbed
Hacker's List
, a new service that offers to connect customers and "professional" hackers for hire. The service would made any tech-illiterate person capable to break into his boss' email address. This really sounds like something that happens mostly in movies. As if I'm hiring a hacker to accomplish crimes for me.
"Hiring a hacker shouldn't be a difficult process, we believe that finding a trustworthy professional hacker for hire should be a worry free and painless experience," reads a description on the website. "At Hacker's List we want to provide you with the best opportunity to find your ideal hacker and for professional hackers around the world to find you."
Hacker's List, the three-month old website — launched in November — has received over 500 hacking jobs so far and waiting for successful bidders. There are around 70 anonymous hacker profiles displayed on the website, but many of them are inactive at the moment.
The website charges a fee on a project and payment is cleared on completion of the work, just like freelancing sites. Based on hours, prices of hackers range between $28 to $300 and full hacking projects range in prices of $100 to $5000. As you might expect, it's all done anonymously — collection of fees when tasks are completed, nobody knows the identity of those involved in doing the work.
Several projects ranging from 'Hacking into Facebook account', 'Hacking into Gmail accounts', 'Hacking into websites' and 'Hacking into business accounts' are listed on the website. Surprisingly, many jobs listed on the website are for the customers pleading for hackers to break into school systems in order to change grades.
You can have a look below to see the list of some jobs, together with the price customers are willing to pay:
$300-$500: I need a hack for an Android Game called "Iron Force" developed by "Chillingo". It's a dynamic Server game, frequently updated. very hard to hack. I need a hack that give diamonds and cash on this game and if possible a auto-play robot system for my account.
$10-$350: Need some info and messages from a Facebook account. Other jobs to come if successful.
$300-$600: I need a hacker to change my final grade, it should be done in a week.
$200-$300: Hack into a company email account. Copy all emails in that account. Give copies of the emails employer. Send spam emails confessing to lying and defamation of character to everyone in the email list.
Hacker's List, a website registered in New Zealand, has become the first website ever to provide "
ethical hacking
" services. While the activities listed on the site are clearly illegal in some cases, but the website asks users not to "
use the service for any illegal purposes,
" as laid out in its 10-page long
terms and conditions
section.