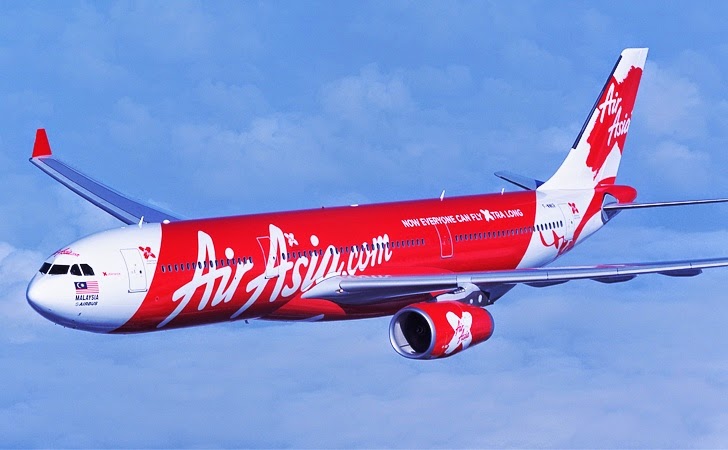 After the Mysterious
Malaysian Airlines flight MH370
incident in March 2014 and the shooting of
Malaysia Airline Flight MH17
by a ground-to-air missile in July 2014, yesterday
AirAsia flight QZ 8501
with 162 people on board found missing by the time it flew from the Indonesian city of Surabaya to Singapore after losing contact with air traffic control due to weather, the airline company said Sunday.
Since, cybercriminals are known to take advantage of every major incident and any occasion that captures public attention – regardless of how sensitive – comes out to be an opportunity for spammers and hackers to snatch users' personal information and spread malware, and the tragedy of the Missing AirAsia flight QZ 8501 is no exception.
Cyber criminals are exploiting the disappearance of Indonesia AirAsia flight QZ 8501 by luring users to websites purporting to offer the latest news in order to steal their personal information.
Our team has spotted some posts on social media claiming that the "
Missing AirAsia flight QZ850 has been found and that all its passengers are safe and alive
". But once the user click on the news, the link redirects users to the malicious websites. It made me remind of the missing
Malaysian Airlines flight MH370
, a Boeing 777-200 aircraft incident which opened doors for many cybercriminals to infect online users.
Indonesia Flight QZ 8501 lost its contact with air traffic control at 7:24 a.m. local time over the Java Sea after taking off from Surabaya, Indonesia, according to a statement from AirAsia. AirAsia flight QZ 8501 was scheduled to land in Singapore about an hour later.
"

AirAsia Indonesia regrets to confirm that QZ8501 from Surabaya to Singapore has lost contact at 07:24hrs this morning,

" AirAsia

tweeted

.
Missing AirAsia flight QZ 8501 was last tracked around the island of Belitung, at the coordinates 03°22'15" South and 109°41'28" East, before disappearing from radars. Due to night, search and rescue operations have been
suspended
, which the team will resume tomorrow.
According to AirAsia, Indonesia flight QZ8501 had seven crew members and 155 passengers, including 137 adults, 17 children and one infant. The aircraft was flying at 32,000 feet and had asked to go to 38,000 feet due cloudy weather in the area.
May be scammers and cyber crooks could exploit this tragic incident to target as many online users as they want. Because they know that users sitting over their online devices and operating social media accounts such as Facebook and Twitter, have had an eye on every news update related to the Missing AirAsia flight QZ8501.
Cyber criminals may also come up with fake news websites in order to distribute malware and infect a large number of online users. So you need to have an eye on that too.
WHAT AN ONLINE USER NEED TO KEEP IN MIND
Beware! Before clicking a link for any news related to the Missing AirAsia flight QZ8501 over social networking sites such as Facebook and Twitter.
Always go for the genuine and reputed news site for any updates regarding the Missing AirAsia flight.
If any link claims you to show a video footage of the missing Indonesia flight QZ8501, please keep in your mind that their is no such video footage available yet. Beware of such fake videos and links that could spread in the wild across the various social media and other sites to abuse your network and system.
If you've already shared or "liked" any such link, it's probably best to delete malware post from your Facebook wall.
First the tragic incident of Malaysia Plane MH370 from Kuala Lumpur to Beijing on March 2014, then the shooting down of Malaysia Airlines flight MH17 from Amsterdam to Kuala Lumpur on 17 July 2014, and now the Missing AirAsia flight QZ850 incident is really a matter of sorrow for all of us.