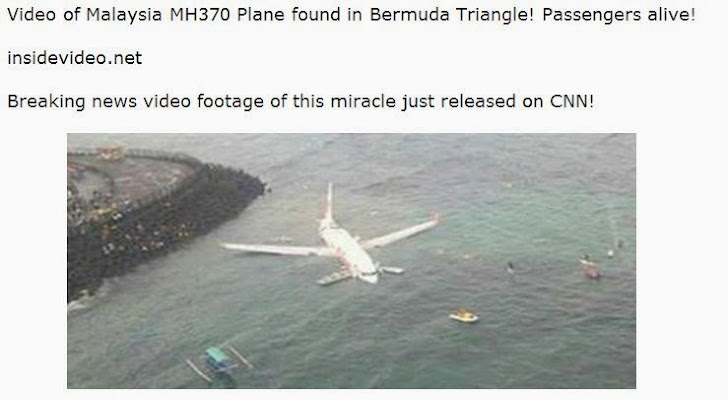 Hackers are very smart on gaining from every opportunity they get and this time the lost Malaysian Airlines flight MH370 gave them a chance to hijack, not the plane, but you all sitting over their operating your Facebook account and having an eye on every news related to the Mysterious Malaysian plane.
Spammers are taking advantage of the lost Malaysian plan and
spam
spreading malware on the Facebook, abusing the mystery behind the Malaysia airplane MH370 that has gone missing by the time it flew from Kuala Lumpur to Beijing.
The hackers are redirecting Facebook users to the malicious websites using a fake Facebook post, claims that missing

Malaysian Airlines flight

MH370, a Boeing 777-200 aircraft

has been found in the

Bermuda Triangle

with its passengers still alive and invites users to click a link to view breaking news video footage.
Title of the fake video: Malaysia Plane MH370 Has Been Spotted Somewhere Near Bermuda Triangle. Shocking Videos Release Today.
When the user clicks to watch the video they are prompted with the following message that says the user to share it before start watching:
Beware! Such news is not true and there is no such video footage available yet. We advise you to beware of such fake videos and links that are spreading in the wild across the various social media and other sites to abuse your network and system. If you've shared or "liked" it, it's probably best to delete
malware
post from your Facebook wall.