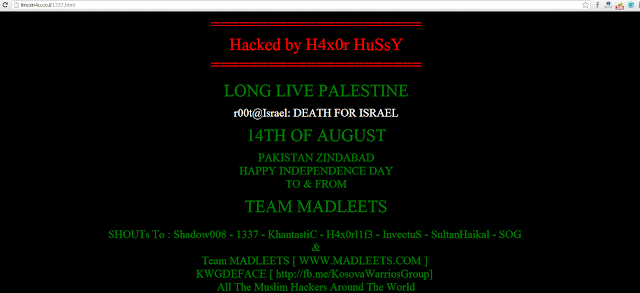 A cyber attack campaign is ongoing and targeting thousands of Israeli websites by Pakistani hackers, in support of
Palestine
people.
They had already infiltrated reportedly 650
Israel
websites listen on
Pastebin
and upload their page with custom messages on servers. The hacker claimed and told 'The Hacker News' that they will release more hacked websites list soon.
The hacker behind the massive attack mentioned his online name as "H4x0r HuSsY" and the message says, "LONG LIVE PALESTINE - PAKISTAN ZINDABAD HAPPY INDEPENDENCE DAY TO & FROM TEAM MADLEETS".
Hacked websites belong to Semi-Government, Personal and Israeli Corporates. At the time of writing, most of the websites still having deface page uploaded to their server.