Where Anonymous declared war on the Israeli websites , today another Pakistani hacking group also came forward in support of GAZA by taking down multiple big Israeli sites and deface all Microsoft related Israeli domains including Bing, MSN, Skype, Live and other.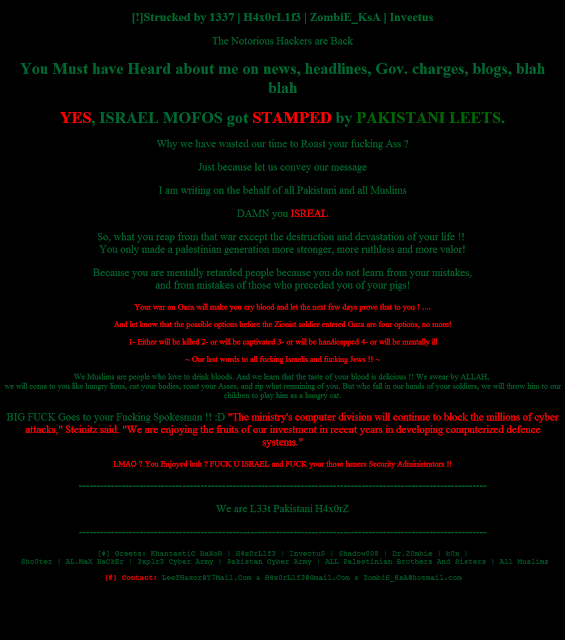 Hacker start with "The Notorious Hackers are Back" , including 1337, H4x0rL1f3 , ZombiE_KsA and Invectus. But we are in contact with ZombiE_KsA (Founder of PakBug Forum) from last 2 years, so I just ask ZombiE_KsA about his involvement in this hack, and he clearly declined his involvement and said that other Pakistani hackers are using his name without permission in the Israeli deface pages to show his support , "and they copied my index as well," he said.
Anyway, deface page said, "on the behalf of all Pakistani and all Muslims," promising that "your war on Gaza will make you cry blood."
Zone-h of all defaced sites are available
here
.
Defaced domains are :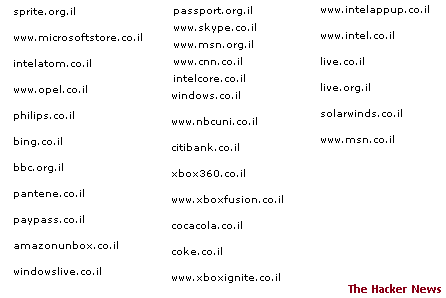 Update:
"Zombie_Ksa" Founder of Pakbugs Team make an official statement on his website -
https://pakbugs.com/
that he was not involved in this hack against Israel.
Also he expose that how hackers manage to hack these sites. In the Ezine, he Zombie said that, Israeli domain registrar website https://www.galcomm.com/ having a working
MsSQL Injection
vulnerability, which allow hackers to extract credentials of all domains from registrar database.
He added,"website is poorly coded in .NET And many more Injectable Links, so these skids must have used some GUI SQLi for example: Havij and many other, and simply logged in account change DNS to their server! and uploaded defacement index".

More comments added by him,"
well, i guess here it ends, so you see how simple it was huh? so Khantastic Script kiddie, stop using my name stop scamming other ppl using my handle, make your own, And ah! i almost forgot these skids copied my Index as well which i used in 2010 when i defaced NR3C, here's link: https://www.zone-h.org/mirror/id/10093092 how skids they are they even copied my index! c'mon who does that? huh? you guys can't even make an index? and oh i wanna tell one more thing that Zombie_KsA ( Me ) I DON'T DEFACE ANYMORE! I keep access on servers only! i dont deface anymore
".