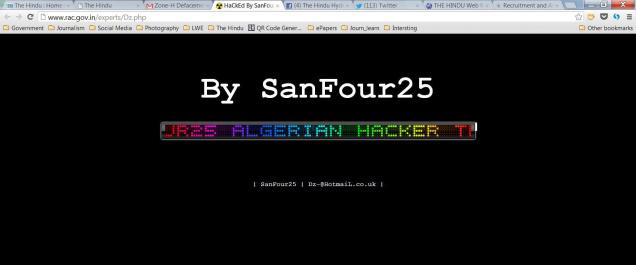 Algerian hackers going by name '
SanFour25
' yesterday deface 7
Indian government
websites including Indian Defence Research and Development Organisation (DRDO), West Bengal police and the Prime Minister's Office (PMO) websites.
According to
TheHindu
, The most sensitive website that came under attack was the one operated by the Recruitment and Assessment Centre (RAC) of the DRDO (
www.rac.gov.in/experts/Dz.php
). The website was down for over 9 hours, which actually deals with the recruitment of scientists to the several laboratories of the DRDO.
List of Hacked domains:
https://rciregistration.nic.in/rehabcouncil/Dz.txt
policewb.gov.in/wbp/counter.txt
www.rac.gov.in/experts/Dz.php
www.diu.gov.in/departments/Dz.php
gpra.nic.in/writereaddata/Dz.php
birapdbt.nic.in/video/Dz.php
iii.gov.in/tmp/Dz.php
Mirrors of hacked sites are available on
Zone-H at
SanFour25 archive. It is possible that
the hackers could have attacked the website to get details of the scientists. Because it was an "Algerian" , that makes the issue very sensitive for CBI.