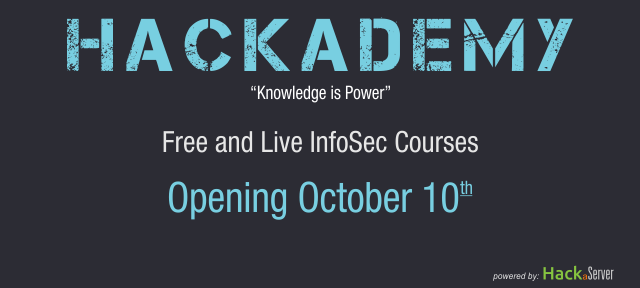 It is a free, eLearning platform specializing in InfoSec courses.

HackAdemy is a place where people can learn and teach eachother about online security using principles of

Open Knowledge

.
On HackAdemy all courses will respect three criteria: Free of charge, Free to distribute and Hands on only. Security can be learned Hands on only.
There are two major reasons that made me do this:
Searching the internet I realized that there is no such product; a free eLearning platform focused on security industry. That struck me, and from there it wasn't hard to think of and implement an eLearning platform dedicated to InfoSec industry free to everybody.
Second,
The Internet grows faster than the World's capacity to provide well trained system administrators as well as well-trained coders/programmers regarding security matters. There is a widening gap between and somebody had to patch it or at least to try. This is HackAdemy's goal.
There are specialized companies that take care of this type of training, how do you think they will receive this free new approach?
Security training companies do a great job and there is a need for them. It is absolutely necessary to have those kinds of certificates (e.g. CPTC, OSCP, CEH, CEPT, CISSP etc.) to prove that you can conduct penetration tests and moreover, above that, to have an ethical attitude. There are companies that are forced by law to have such penetration tests (e.g. government agencies, strategic companies, financial institutions etc.) and those tests cannot be done without certified pentesting companies.
Suppose you are a company that provides security training and security certificates for ethical hackers. As a company who offers paid training courses, you have to get as many candidates as you can to teach them about security. HackAdemy is the place where those companies can look for candidates.
By giving free good advice and lessons, people can choose to follow paid courses in order to get a world wide security certificates. It's time to give those best practices courses in a well-organized place and moreover in a dedicated place for InfoSec industry. Companies can have their own class room where they can present introductory courses and more, they can give good advice about the way how to better secure different products (web applications, web frameworks, servers etc.). Courses like "How to: better secure your production server" or courses like "How to: configure a WAF" or "How to: better configure your firewall using iptables".
From a marketing point of view, this is a win ticket. As a company or organization, show users that you are close to them, ready to help them, teach them and advise them. People will start talking about them and this will lead to better communication with people and future customers. Best marketing/PR strategy: Give and share. People love and appreciate this.
As you see, we don't compete, we complete those companies.
Who is qualified to become teacher/instructor for HackAdemy?
Basically anyone can make a request but we aim for those experienced ones and who understands Open Knowledge concept very well.
• People who already do this or have done it in the past.
• Highly experienced certified ethical hackers who want to become instructors/teachers in InfoSec industry.
• Companies specialized in security training and provide ethical hacking certificates can keep introductory courses.
Those are who we're looking to become teachers at HackAdemy.
What are their advantages for keeping those courses?
If they are looking for a well paid job being an instructor, HackAdemy is not the place. At this time, there will be no money. At least not now at its inception. Later on, might be possible (we will work on it) through sponsors. Remember our goal at HackAdemy is to spread knowledge through Open Knowledge not to transform it into business.
Even if there will be no money, there are other advantages that they'll get such as:
Personal branding: If they are willing to teach others and they are good at, that means will have full classes and all their students will follow him/her. HackAdemy will be a springboard for their future careers as a teacher/instructor because all courses will be ranked after being taken place by the students.
Visibility: They become well known in InfoSec industry and/or improve their personal brand if already are a name. For sure it will help them especially if they run a blog or/and have social network accounts (Twitter, LinkedIn etc).
This is the opportunity for them to improve or prove their instructor/teacher skills (suppose they have started a new job as an instructor/teacher at a training company.)
Who are HackAdemy's students?
• Students from CS faculties that are interested in InfoSec industry.
• People who are in love with hacking, wants to find out more, and who knows they will start to deepen.
• System administrators – to improve their security skills; both defensive and offensive security.
• Web application developers – to find out how to avoid vulnerabilities in what they build.
•
Anyone who wants to become ethical hacker.
Do you have any students?