20-year-old

Anonymous Hacker arrested

by Bulgarian Police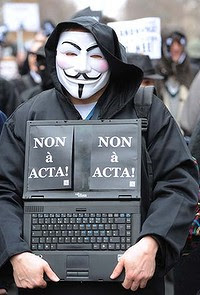 Bulgarian police authorities have arrested an alleged member of the loosely associated Anonymous hacktivist group. The 20-year-old suspect has allegedly attacked the website of Prophon, a Bulgarian music licensing company.
The reason - Mitko was against paying for music and movies, like to draw at will from the network. The attack he made on February 5, 2012 as able to penetrate into account the site administrator. Following the intervention of Mitko, entering the address www.prophon.org is appeared a message that "Anonymous" seize the site.
"PROPHON Hello, We are Anonymous. We learned that you are greedy and another 12 organizations have signed an open letter in support of the so-called. Agreement ACTA. This is unacceptable and this angered us. You are first, not last. This should be a lesson to all who support ACTA. We are Anonymous. We are legion. We do not forgive. We will not forget. Expect us, "the message of hackers.
Police have seized four PCs, eleven servers, three laptops, a large amount of hard discs, flach memory cards, CDs and DVDs, according to the Bulgarian Interior Ministry.The suspected hacker is said to have admitted his guilt.
Mitko has completed secondary education right in the field of high technologies in the future dreams is your hosting company and continue their education. Ministry of Interior does hope Mitko to harness their skills for good and constructive things. For this offense the law provides for up to 1 year in prison, but because the young man has a criminal record and admitted his guilt, probably Themis will judge "probation" for his offense.