Hackers disclose secret

Ankara police

files password '123456'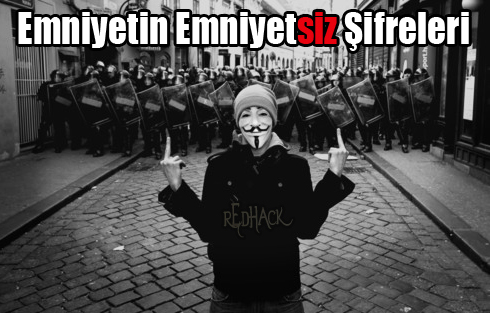 Hackers from the "RedHack" group who brought down the Ankara Police Department's website and acquired secret information last week said one of the passwords of the secret police files was "123456."
A member of the hacking group named "
Radikal
" saying that "
RedHack was founded after deliberating on how to utilize our skills for the oppressed peoples
." "
The question is, how serious can a police force be if they save secret files with a password like '123456'?
"
The group member said the reason for targeting the Ankara Police Department was that it was the center of applications such as "E-State" and "E-Police," and the fact that it was "much more special and better protected" than other police department websites.
RedHack had downloaded police files that contained tips from "informant" citizens that told of suspicious activities by other citizens and published them on their website www.kizilhack.org, which is currently blocked by a court order to Internet users from Turkey. Password for secret files '123456'.
The RedHack member also said almost all of the software installed on Ankara Police Department's computers were pirated copies. "
Even the FTP [File Transfer Protocol] program they were using to share secret documents was pirated. The police need to open an investigation on itself as they are 'anti-piracy,'
" the member said and added they could prove the existence of pirated software on police computers as they took screen shots showing illegally obtained programs.
They also attack and delete all files from sites that "belong to fascists, individuals that are the enemies of the people, government, legal parties" and so on.
The group will continue to publish information they obtained from the Ankara Police Department in the coming days, the group member said.