Why

US Aircrafts

Drop Spy Devices in

Syrian

?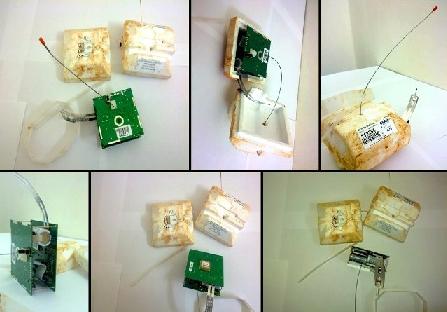 Last week Iranian engineer claim to
hijack U.S. drone
by hacking GPS system using GPS spoofing. On December 14, residents of a small town in northern Syria reported seeing unidentified aircraft circling overhead, and dropping several small items attached to mini-parachutes , which entered Syrian airspace through the Turkish border. The gadgets, pictured here, look suspiciously like surreptitious listening devices. Residents say the question is :
who dropped them, and why?
The sources explained that the aircrafts that dropped the devices were American, not Turkish. They added that the aircrafts took off from Incirlik air base, southeast of Adana, which is 130 km away from the city of Afrin, mainly to belong to the Kurdish nationalists.
"
This action aims at eavesdropping on communications between the Syrian troops, locating their spots accurately and collecting any information about it in order to provide them to U.S. and Turkish authorities, and perhaps to the Syrian Free Army as well as monitoring any military movement by the PKK in the region
," from the sources.
Syrian newspaper Al-Hakikah (The Truth), which supports the opposition Syrian National Council,
said
the suspected spy gadgets weigh about 90 grams each and bear "Made in Germany" labels, as well as "GRAW DFM-06" inscriptions. Graw is a Nuremberg-based German company that produces radiosondes, small radio transmitters used in weather balloons, that measure various atmospheric parameters and transmit them to fixed receivers. But Al-Hakikah reports that the devices found in Afrin seem to transmit GPS coordinates, and appear to have been modified to intercept radio communications. Some suspect that the devices are aimed at eavesdropping on the communications of Syrian government troops and of Syrian Air Force planes, which are engaged in an increasingly bloody conflict against the opposition Syrian National Council. This, says Al-Hakikah might point to American intelligence agencies, which are known to support the opposition Syrian Free Army, as the originators of the modified radiosondes.
This can be attempt to monitor suspected activities of the Kurdistan Workers Party (PKK), an armed secessionist group fighting the Turkish government, which is known to operate from bases in northern Syria.
On other Hand U.S. intelligence agencies have pin pointed many of the
Chinese groups responsible
for spying in the U.S., and most are sponsored by the Chinese military, according to people who have been briefed on the investigation.
A spy drone came down in Iran - no apology from Obama Administration - give us the drone backThe US has asked Iran to free "without delay" a US man of Iranian descent described by Tehran as a CIA spy. So Why is America spying on others ?