Texas law enforcement

Hacked by #Antisec and #FreeAnons - 3GB of data leaked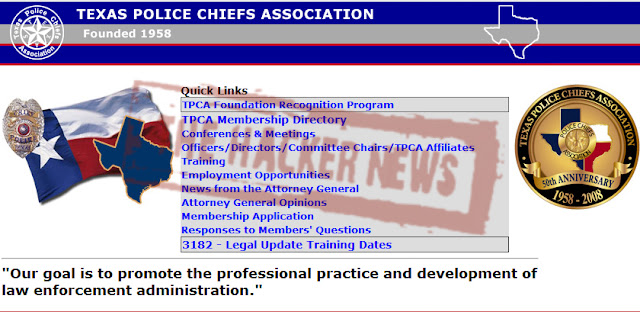 Texas Police Chiefs Association
Website
hacked by Anonymous Hackers for Antisec Operation. Hacker deface their website and post 3GB of data on it with Message "
In retaliation for the arrests of dozens of alleged Anonymous suspects, weopened fire on dozens of Texas police departments and stole boatloads ofclassified police documents and police chief emails across the state. During theSan Jose courtdate we defaced and gave out live backdoor and admin access to thewebsite TexasPoliceChiefs.org while allied ships launched ddos attacks uponJustice.gov and other law enforcement websites.
" Complete Message
here
. All this done for
#FreeAnons
Campaign.
Texas law enforcement agencies (LEA), and includes the emails and personal information for 28 police chiefs posted
here
. The leaked messages are said to contain Internal Affairs related case details, as well as pornographic materials, anti-immigrant and anti-Muslim chain letters, racial profiling reports, and racial profiling complaints.
Hackers Claim "
It's all been owned for nearly a month. We've been going to town with their accounts, now we're dumping the info
."
Update
AnonymousIRC
Release 3GB data on
Torrent
also.