Mac trojan

poses as PDF to open

botnet backdoor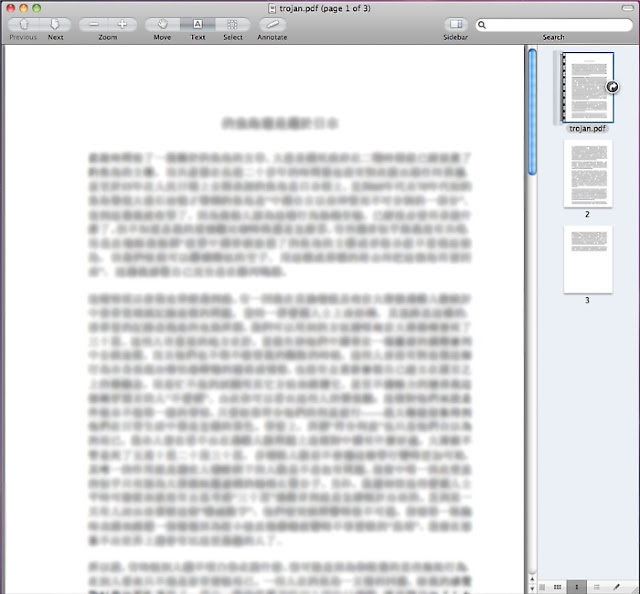 There's another Mac OS X Trojan out in the wild, and it might be heading your way.If you open the file, which could appear as an emailed attachment or as a Web link, the document, written in traditional Chinese ideograms, does indeed display. But a Trojan silently installs itself in the background as you try to sort out centuries-old territorial claims.The Trojan doesn't really do anything yet. But F-Secure, the Finnish security firm that discovered it, notes that it lays the groundwork for much more sophisticated attacks against Macs.
The malware in question has been identified as Trojan-Dropper:OSX/Revir.A, which installs a backdoor, Backdoor:OSX/Imuler.A, onto the user's Mac. Currently, however, the backdoor doesn't communicate with anything. The command-and-control center for this particular malware is apparently a bare Apache installation, which has been sitting at its current domain since May of this year. Because of this, users who might fall victim to this attack aren't likely to see many ill effects for the time being, but that could change if the files end up spreading to a wider audience.
MD5 hashes for the samples:
• Trojan-Dropper:OSX/Revir.A: fe4aefe0a416192a1a6916f8fc1ce484
• Trojan-Downloader:OSX/Revir.A: dfda0ddd62ac6089c6a35ed144ab528e
• Backdoor:OSX/Imuler.A: 22b1af87dc75a69804bcfe3f230d8c9d
Usually, backdoors are employed to communicate with a remote command-and-control (C&C) server, which is capable of instructing the payload to siphon off data from the infected computer back to the attackers. However, F-Secure found that the C&C server is a bare Apache installation, not yet capable of communicating with the backdoor.