The Europe Championships of the Global CyberLympics has just concluded! It is now time to crown new CHAMPIONS for the Middle East & India Regional !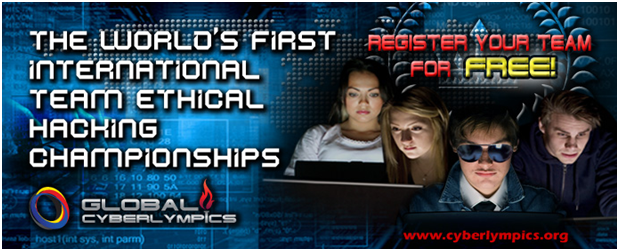 About the Global CyberLympics: The Global CyberLympics (
www.cyberlympics.org
) is the world's first international team ethical hacking championships, and will be held from September onwards across six continents. It is endorsed by the U.N.'s cybersecurity executing arm – IMPACT - and the EC-Council is sponsoring over $400,000 worth of prizes.
Regional championships will be held in various locations across different continents, and co-hosted with reputable IT/information security conferences and tradeshows, as follows:
North America (Eastern) | Hacker Halted USA – Miami, USA
North America (Western) | TakeDownCon – Las Vegas, USA
South America | H2HC – Sao Paolo, Brazil
Europe | Hacktivity – Budapest, Hungary
Middle East & India | GITEX – Dubai, UAE
Asia Pacific | Hacker Halted APAC – Kuala Lumpur, Malaysia
Africa | TakeDownCon – Johannesburg, South Africa
To compete at the games, simply form a team of between 4-6 players, ensure that at least one player (team leader) attempt and pass the proficiency test to earn a player's code. The code can then be used to register a team to compete against others in the region.
Registration fee is waived for a limited time period. To find out how to participate in this groundbreaking event,
please visit -> https://www.cyberlympics.org/TheGames/HowtoEnter.aspx
Note:
The Middle East & India Championships will be held at the GITEX 2011 conference in Dubai, UAE, on the October 11th – 12th, 2011