PBS (Public Broadcasting Service)

&

Writerspace

Hacked Again by

Warv0x (AKA Kaihoe)
Yes ! Its True that PBS (Public Broadcasting Service) Hacked once again .Last time, A month before

Public Broadcasting Service (PBS) Hacked by Lulzsec

and Users data ,Database was Leaked and then Lulzsec claim that

PSB.org was hacked with 0day exploit for MoveableType

. This time Warv0x (AKA Kaihoe) expose the whole Database of
PBS.org using SQL injection.
According to Warv0x (AKA Kaihoe) "

This wasn't done for fame or fun,just proving LulzSec aren't as goodas they think they are. I haven't rooted the box or been up to crack the hashes, I'm just proving that most of their attacks are very lame and basic (i'm pretty sure and automated) SQL injections and further privilege escalation, which is just matter of time.

" He also said "

Support for WebNinjas & Jester, good job at exposing them.Sad to mention, but I really agree with th3j35t3r & WebNinjas - LulzSec are just a bunch of script kiddies...

"
Today Th3J35t3r (The Jester) claim to expose identities of LulzSec Leader "Sabu". Read Here...
Warv0x (AKA Kaihoe) shared a Pastebin post with us (
The Hacker News)
https://pastebin.com/FZVbkQZQ , Via this they expose the Database and various Hashes of PSB .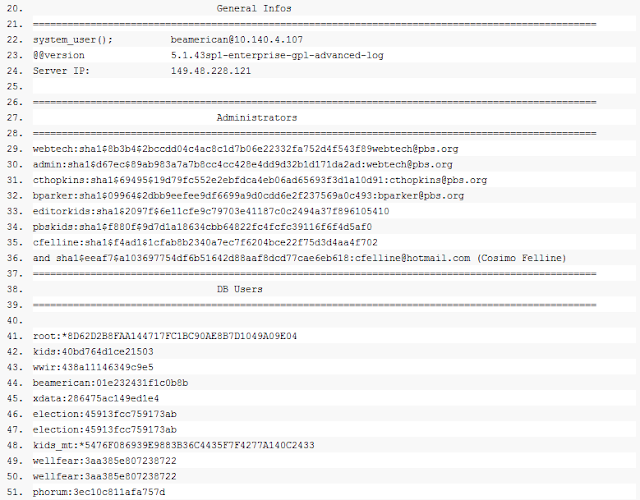 PSB is still Vulnerable to Hackers .Warv0x (AKA Kaihoe) also expose the

SQL
Vulnerable Link

.

On 16th June, 2011

LulzSec Leaks 62,000 Email/Passwords of writerspace.com

. That time Lulzsec give statement that "

We don't know from where we got these 62000 Logins

". But Warv0x (AKA Kaihoe) Exposed the SQL
Vulnerability of
https://writerspace.com

also which was the source of Lulsec Release.
Its :
https://writerspace.com/booksearch/author.php?id=2280'

Using SQL injection Lulzsec was able to extract all those 62000 Logins data. Site is Still Vulnerable.