LulzSec

Leaks 62,000 Email/Passwords of

writerspace.com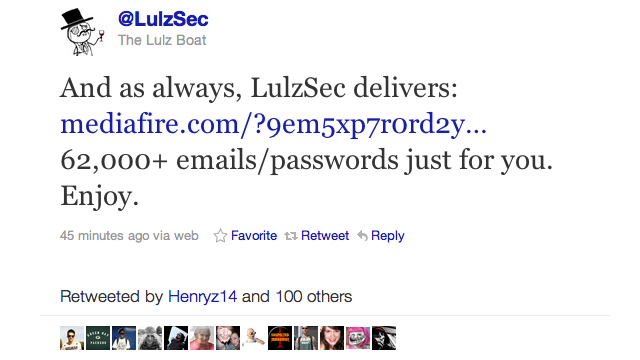 LulzSec Leaks 62,000 Email/Password Combo Internet Goodie Bag. Lulz hasn't said where they got the data, Even they are not sure that, these logins are from which site. They tweet the download link as shown
:

https://www.mediafire.com/?9em5xp7r0rd2yod


According to
Mikko H. Hypponen ,CRO of F-secure
- "
The list of 62,000 emails/passwords just released by @LulzSec is probably the user database of writerspace.com.
" He also give Reason that "
Why writerspace.com? Well, the most common passwords include these: mystery, bookworm, reader, romance, library, booklover and..writerspace.So basically that's why I believe the latest Lulzsec password leak originates from writerspace.com. I'm guessing it's their user database
"