Anonymous IRC hacker, Ryan Cleary Exposed !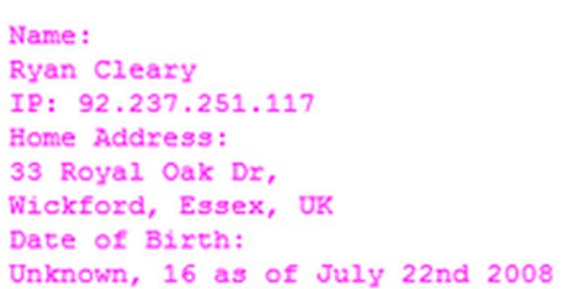 The 'Anonymous' collective named
Ryan Cleary
as the person responsible for breaching two of its own sites. The 18-year-old was accused of trying to bring down message boards used by Anonymous members to communicate with each other.
Read Here
'
We regret to inform you today that our network has been compromised by a former IRC-operator and fellow helper named "Ryan"
,' a post on its AnonOps site said.
'He decided that he didn't like the leaderless command structure that AnonOps network admins use. So he organised a coup d'etat.'
Mr Cleary was accused of stealing passwords and targeting the network servers used to keep Anonymous's websites running.
'
This is not a joke, this isn't a lie, this is the truth and we are sorry for that,
' the post added. A later update showed a screenshot of a '
revenge attack
' that gave the alleged culprit's full name, address and phone numbers.
Anonymous is still under attack. Going to AnonOps.net diverts to a page with the title '
LOL ANONOPS DEAD
' followed by some rather unpleasant language.
More Info about Ryan : https://pastebin.com/7PSwG8vR
Update 11-05-2011 :
Name: Mr Ryan Cleary
Alias: viraL
Age: 18-19
Address: 10 South Beech Avenue Wickford SS11 8AH
Phone Number: +447510557265
ISP: Virgin Media
Skype: ryan.cleary
Paypal: ryan@quantam-servers.net or .com
Father: Mr Neil Cleary
Mother: Mrs Rita Cleary - Aged 44
Brother: Mr Mitchell Cleary - Aged 22
Previous Address: 33 Royal Oak Dr, Wickford, Essex, UK
Registered Companies
ARCUSVOICE LTD
Company No. 07480848
Ace Electrical
Company No. Unknown
Possible Phone Number (Masked): +449040498229
Stay Tuned For Updates ...........
'

The Hacker News

' Magazine -

Social Engineering Edition

- Issue 02 - May,2011 Released !