Facebook's security team have reason to celebrate as they have claimed another scalp in the ongoing fight against spammers on the social network.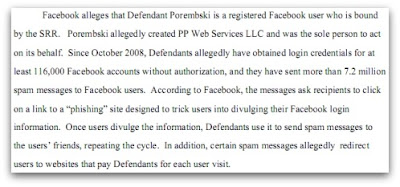 A post on Facebook's Security page announced that this week a federal court has awarded the firm a whopping $360,500,000 in statutory damages and issued a permanent injunction against spammer Philip Porembski.
US district court judge Jeremy Fogel made the judgement against Porembski, who ran a firm called PP Web Services. Porembski was alleged to have obtained the login details of at least 116,000 Facebook users, and sent more than 7.2 million spam messages to victims' online friends.
Some of the spam messages directed users to phishing websites that stole usernames and passwords, while others made money for Porembski every time someone clicked on the links.
A computer discovered by the Sacramento County Sherrif's Department, which was thought to belong to Philip Porembski, was found to contain more than 160,000 Facebook login credentials, as well as automated scripts to access Facebook and send messages.
In a brief statement, Facebook said they were "pleased with the win, which is just another result in an ongoing enforcement effort."
Facebook claimed that it received more than 8000 complaints from users as a result of the spam campaign, and more than 4500 users had deactivated their accounts.
As we discussed in Sophos's recent Security Threat Report 2011, spam is certainly a big problem on Facebook, and it's good to see legal action being taken against the people behind it.
Of course, a judgement is one thing. Facebook's chances of ever seeing much of that $360,500,000 is another thing entirely.