The Blackbuntu Community Edition is a Linux Live-CD based on Ubuntu 10.10 which was specially designed for security training students and practitioners of information security.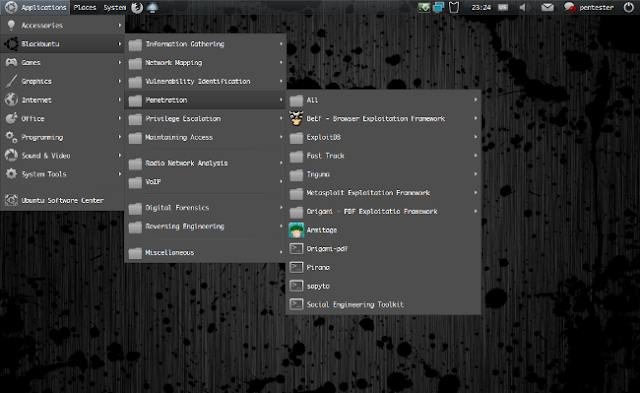 Another tool for penetration testers collection that could be considered as a competition for Pentoo. It supports the following list penetration testing methodologies:
Information Gathering

Network Mapping

Vulnerability Assessment

Privilege Escalation

Maintaining Access

Intrusion Detection and Prevention

Digital Forensics

Web Application Analysis

Reverse Engineering

Wireless Analysis

Security Distributions

Malicious Code Analysis

AntiSpyware & AntiVirus Tools

Password Recovery & Managers
To be precise, it contains the following tools:


Information Gathering

:
DNS
DnsEnum

Dnsmap

Dnsrecon

DnsTracer

Dns-Walk

Fierce

FindDomains

HostMap

Lynis
0trace

Itrace

Lanmap2

Nat Probe

Netenum

Netmask

NMBscan

Protos

Tctrace

TCPtraceroute
Bing-ip2hosts

Goorecon

Gooscan

Maltego

Metagoofil

Search Engine Assessment Toolkit (SEAT)
This is just the list of tools for information gathering. It contains a lot many tools and since the list is huge, we have not included it. You can read the same on the web site.
Download

Blackbuntu Community Edition v0.1

here