A computer worm is on the loose that denies Facebook users access to their accounts.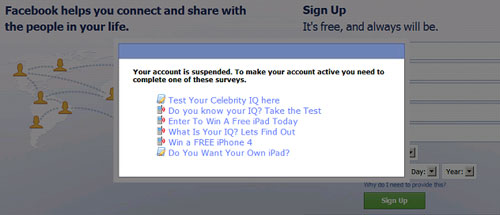 The worm, dubbed "W32.Yimfoca" by the security company Symantec, is being spread through Yahoo! Messenger and specifically targets Facebook users, forcing them to fill out surveys before they can log on to their profile pages.
First, the worm sends an instant message to users that includes a corrupted link. When a user clicks the link, the worm installs malware on their system. Later, when users visit the Facebook homepage, they are met with a message reading, "Your account is suspended. To make your account active you need to complete one of these surveys," followed by a list of six options, including "Test Your Celebrity IQ here," and "Win a FREE iPhone 4."
If you decide to fill out one of the surveys, another box appears reading, "You have only 3 minutes to fill out the selected survey or you will not have access to your account."
Each time a survey is filled out the people behind the worm receive $1, Symantec reported. The only way to gain access to your Facebook account is to fill out a survey.
"So long as W32.Yimfoca is running on your computer and you haven't completed a survey you will be blocked from accessing Facebook.com," Symantec noted.
Symantec said this particular scam is only affecting people using the Internet Explorer Web browser, and that Facebook is currently blocking users' ability to spread links containing this malicious scam.