Some 300 internet cafes in Nepal have come under the police scanner after the introduction of a new regulation by the government to check cyber crimes.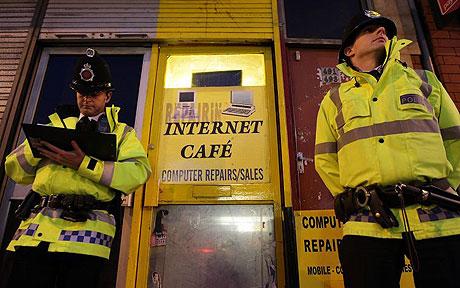 Cyber users will now be required to show ID cards, register their names, address and telephone numbers in the cyber cafe as per the new regulation, chief of the Metropolitan Police Crime Division, SSP Rana Bahadur Chand said.
There are around 1,200 cyber cafes in Kathmandu valley and we will gradually bring all under the new law, he informed.
As the use of internet is growing day by day among the people in the urban areas, cyber crime has also increased manyfold, he pointed out.
As per the instruction of the government, MPCD has initiated steps to bring the cyber cafes, which are being operated in Kathmandu valley, under its scanner, he said.
The cafes will now have to provide details to the police whenever demanded, he added.
Every month some 8-10 cyber-related cases are being registered with the police, he revealed.
People complain about different kinds of cyber crimes such as e-mail threats, stealing of email-id and passwords, hacking of e-mails and misuse of pictures posted in social networking sites such as facebook, he pointed out.
Attaching nude pictures of girls to another woman's face has become common phenomenon these days, he added.
Mostly businessmen, people with higher social status, school girls, and young boys and girls have been victimised by the cyber criminals these days, the senior police official said.
A Cyber Crime Unit has been established under Kathmandu Metropolitan Police Circle since last year, he said, adding, the unit headed by Chandra Singh Dhami has 15 full time engineers and some 8-10 people from outside are being hired on part time basis, he said.
This is a kind of public-police partnership, Chand added. Following the instruction of the Home Ministry, the MPCD had recently held a meeting with Nepal Telecom to work out the plans to tackle cyber crimes, he informed.
News Submitted By : Om Rathore