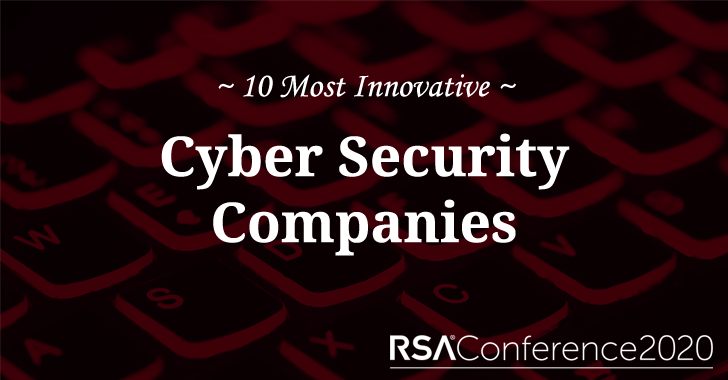 The
RSA Conference
, the world's leading information security conference and exposition, held its 29th annual event in San Francisco last week.
According to the organizers, over 36,000 attendees, 704 speakers, and 658 exhibitors gathered at the Moscone Center to discuss privacy, Machine Learning, and AI, policy and government, applied crypto and blockchain, and, new for the RSA Conference 2020, open source tools, product security and anti-fraud.
Despite several large vendors including Verizon and IBM canceling their presence in light of the spiraling panic around coronavirus, the event was one of the brightest and innovative, according to numerous stakeholders expressing their excitement in the media and on social networks.
We decided to gather some feedback from the attendees, journalists, and security experts involved in RSA 2020 to understand the most recent cybersecurity trends after this milestone event.
Below is our selection of 10 most innovative cybersecurity companies that in our opinion, deserve your attention by their distinctive technical or scientific approach, value-proposition or long-term vision:
Qualys
Qualys, a pioneer and leading provider of cloud-based security and compliance solutions, unveiled its new flagship product VMDR (Vulnerability Management, Detection, and Response) at RSA 2020. As per the vendor's product specifications,
Qualys VMDR
® provides an all-in-one cloud-based app that seamlessly automates the entire vulnerability management cycle across endpoints, cloud, mobile, containers, and IoT environments.
Most importantly, VMDR automatically detects the latest patches for vulnerable IT assets and automatically remediates the problem, saving a great deal of time and effort. Ultimately, VMDR will significantly accelerate the ability to respond to emerging threats and prevent data breaches in a simple and straightforward manner.
Deployment of the novel cloud-based app is virtually effortless, while asset-based pricing ensures a competitive price/quality ratio within the vulnerability management market.
Fortinet
Fortinet, a global network and cloud security company, announced at RSA an unsupervised Deep Learning AI solution
FortiAI: Virtual Security Analyst™
with unprecedented scalability.
According to Fortinet, the groundbreaking solution is aimed at alleviating the tedious human work of studying malware characteristics and properties to identify and classify them into meaningful threat categories.
Furthermore, the solution pinpoints patient zero and subsequently infected systems in a matter of seconds. FortiAI functions just like a trained security analyst but multiplied by 10 in terms of efficiency, speed, and stress-resistance.
It is an on-premises appliance providing accurate assessments for incoming threats in real-time, while studying and learning new threats, so it can evolve and rapidly adapt to new attacks. The result is tailored threat intelligence that is specific to the organization that doesn't rely on daily AI updates from the cloud.
Securiti.AI
Securiti.AI, among other things, is the winner of the RSA Conference Innovation Sandbox Contest 2020, provides AI-powered PrivacyOps solutions for today's privacy regulations, including GDPR, CCPA, and LGDP.
It enables enterprises to assign rights to people on their data, comply with global privacy regulations, and build sustainable trust with customers. Security.AI claims that its
PRIVACI.ai
platform automates all major functions requisite when complying with a myriad of intricate global privacy regulations and laws in one place, using the power of AI.
The patent-pending People Data Graph™ technology scans on-prem and cloud data systems to identify PII and map that data to the owners. By harnessing this real-time view of personal data, PRIVACI.ai automates the processing of data subject requests, consent revocation across multiple systems, breach notifications, and vendor assessments, saving organizations a significant amount of time and money.
ImmuniWeb
ImmuniWeb, an AI pioneer and award-winning application security company, stands out among emerging cybersecurity visionaries with its consolidated approach aimed to sharply reduce complexity and costs.
In a few clicks, its
ImmuniWeb® AI Platform
illuminates your external attack surface and Dark Web exposure for well-informed, risk-based, and DevSecOps-enabled application penetration testing and continuous security monitoring. Each solution can also be purchased separately, customized, and started online in a matter of minutes.
Its award-winning Deep Learning ML/AI technology effectively accelerates monitoring, augments security scoring, and intensifies testing, leaving only the most sophisticated tasks, which truly deserve human ingenuity and intelligence, for its security experts.
ImmuniWeb provides one of the most inclusive and in-depth Attack Surface Management solutions, spanning from public code repositories to Deep Web. Its price/quality ratio is decidedly attractive, unsurprisingly making the company a favorite amid its technology partners and happy customers coming from FT 500 companies.
Darktrace
Darktrace, a UK-based cybersecurity unicorn active in defensive Machine Learning and AI, actively commercializes its
Enterprise Immune System
, a self-learning AI technology that detects novel threats, APT attacks, and insider activities at their very early stage.
According to Darktrace, their technology is modeled on the human immune system: the Enterprise Immune System continuously learns and understands 'self' for everyone and everything in the business, and can spot the subtle signals of an advanced attack, without relying on outmoded rules, signatures, or prior assumptions that can be unreliable or flatly outdated and ineffective.
This unique approach enables Darktrace to detect the most sophisticated and stealthy cyber-threats that other tools miss. Darktrace spots threats in your cloud and SaaS systems, received via email or on IoT devices into your network, covering Salesforce, Office 365, SharePoint, AWS and Azure.
Such a holistic approach makes Darktrace an invaluable component of proactive threat hunting and timely breach detection.
Cofense
Cofense, a global leader in intelligent
phishing defense solutions
, formerly known as PhishMe, actively advocates the data breach reduction approach by eliminating human risk factors implicating all possible variations of phishing, whaling, and BEC attacks.
The company claims that AI and Machine Learning alone are no silver bullets to protect against today's sophisticated attacks. Contrariwise, empowering humans to act as the last line of defense is critical for a multi-layered and multidimensional cyber defense posture.
Cofense provides one of the most comprehensive portfolios of anti-phishing products, including awareness, detection, response, and threat intelligence.
Trusted by over half of the Fortune 100 companies, Cofense delivers what most CISOs are missing – peace of mind by virtually eliminating human risks and preventing otherwise unstoppable data breaches.
Cisco
Cisco, a venerated global leader in enterprise and network security, presented a supercharged
Cisco SecureX
, the broadest, most integrated cloud-native security platform in the industry.
Aimed to bring simplification in the way its customers experience Cisco Security's portfolio and addressing growing cybersecurity complexity, the platform is built on a decade of significant investment in innovation, partnerships, acquisitions, customer research and open-source standards. The flagship offering unifies visibility, identifies unknown threats, and automates workflows to strengthen customers' security across network, endpoints, cloud, and applications.
Cisco SecureX is scheduled for general availability in June 2020, but its customers that include 100% of the Fortune 100 are already invited to join the beta program waitlist or request a demonstration. Given Cisco's unshakable reputation on the enterprise cybersecurity market, SecureX will likely top the most prominent innovations in 2020 in the global security arena.
Nuance
Nuance Communications, a pioneer in biometrics and conversational AI innovations, seemed to impress the RSA audience with its award-winning biometrics technology that enables agile authentication and fraud prevention across voice and digital channels. Something that in light of skyrocketing vishing attacks could be a lifesaver.
The underlying technology leverages 4th generation of Deep Learning AI algorithms that reliably identify individuals by voice, behavior, and other human characteristics. The latest cloud-native version available,
Nuance Gatekeeper
, allows organizations of all sizes to validate customers' identities in a secure and frictionless way.
Gatekeeper thereby enables organizations to benefit from increased security posture and customer convenience. It would be difficult to disagree that Nuance's Gatekeeper offers peace of mind for security professionals in a largely unaddressed and novel field of human fraud prevention.
F5
F5, a globally established application and cloud protection provider, announced at RSA its recent
acquisition of Shape Security
purported to bolster F5's customer-focused approach to application protection and defense.
Gathering real-time attack data from customer use cases, prominent industry attack practices, and immense threat intelligence data from F5 Labs, F5's current portfolio safeguards all organizational applications without impacting the end-user experience or slowing time-to-market.
As a global leader in WAF and API security technology, F5 also delivers application security with consistent policies and controls across hybrid- and multi-cloud environments. Its award-winning offering spans four solution areas that correlate directly to the areas that organizations must protect to deliver applications and services: Application Layer Security, Trusted Application Access, Application Infrastructure Security, and Intelligent Threat Services.
Consolidation of application and cloud defense in a turnkey offering makes F5 a no-brainer selection for large organizations seeking simplicity, effectiveness, and agility.
Kenna Security
Kenna Security is a global provider of risk-based Vulnerability Management. Kenna Security delivers its vanguard vision of vulnerability management via
Kenna Security Platform
that automatically prioritizes vulnerability remediation, based on empirically calculated risk metrics, and delivers continuous reporting on organizational risk posture and security team performance.
The platform precisely calculates which security flaws and misconfigurations present the highest practical risk and de-prioritizes the vast majority of less relevant alerts, letting organizations effectively and effectively mobilize their teams to consistently reduce the risks.
Moreover, Kenna Security notifies the right people of the right vulnerabilities to achieve the greatest possible agility and time efficiency, meticulously guiding each team through the steps required to remediate a given risk. Amid steadily growing noise and omnipresent false-positives, Kenna Security focuses on the right priorities and enables CISOs to rest at nights.