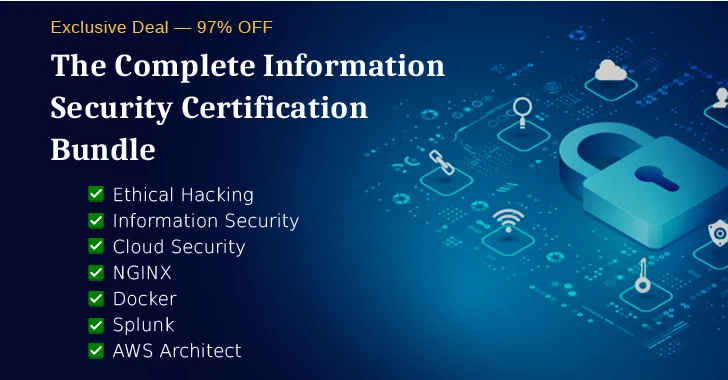 As the world becomes more interconnected by the day, more and more companies of all sizes and industries are finding themselves under attack by fearless cybercriminals who can access their entire server farms from across the globe with only a few lines of code.
And it's not just private corporations that are suffering.
A wide range of government agencies are also constantly under attack, and national security is relying more and more on counter-cyberattack measures to safeguard everything from classified data to entire power grids.
So it should come as no surprise that the overarching field of information security is booming, and those with the skills to thwart and retaliate against a growing number of sophisticated cyber threats are in high-demand across countless industries.
The
Complete Information Security Certification Bundle
will help you join this lucrative field, and it's currently available for over 95% off at just $31.
With 7 courses and over 80 hours of in-depth training, this bundle will teach you both the fundamentals and more advanced elements of the interconnected worlds of information security, cloud security, and cybersecurity.
Ethical Hacker Boot Camp: Get a Hands-On Hacking Education & Break Into a Booming Industry
Certified Cloud Security Professional: CCSP Pass the CCSP Exam On Your First Try
Information Security Management Fundamentals: Learn How to Protect Yourself & Corporate Information from Hackers
NGINX: Beginner to Advanced 2019: Beginner's Guide to Master the HTTP Protocol & NGINX
Docker Certified Associate 2019: Prepare for the Docker Certified Associate Certification Exam
Splunk: Beginner to Architect 2019: The All-in-One Course to Mastering Splunk
AWS Certified Solutions Architect - Associate Certification 2019: Study to Earn One of Today's Most Important Cloud Computing Certifications
You'll learn how to build and set up a series of complex firewalls that can thwart attacks from hackers, how to retaliate against a wide range of hacks, how to implement safeguards on server infrastructures, how to test for vulnerabilities in networks, and more.
There's also material that will help you ace the exams for some of the fields most important certifications—including:
AWS Certified Solutions Architect
Certified Cloud Security Professional certifications
Get the skills and credentials you need to join the booming field of information security with the Complete Information Security
Certification Bundle for just $31
—over 95% off its usual price for a limited time.
Prices are subject to change.
Like this deal?
Check out Vault
— you'll get four premium tools, including NordVPN and Dashlane, to supercharge your online security. Enter code VAULTONE to try it out for just $1!