I have really bad news for Adobe customers in Venezuela…
California-based software company Adobe on Monday announced to soon ban accounts and cancel the subscriptions for all of its customers in Venezuela in order to comply with economic sanctions that the United States imposed on the Latin American country.
The Trump administration issued an executive order on 5th August 2019, targeting the President of Venezuela Nicolas Maduro for allegedly usurping the presidency and violating the human rights of the country's citizens.
The Presidential
Executive Order 13884
has been designed to block American companies and individuals from conducting virtually all trade with Venezuela.
As a result, Adobe has now decided to deactivate all accounts in the country, leaving thousands of users and companies without access to the company's graphics and multimedia software, including Photoshop, Illustrator, Acrobat Reader, Adobe After Effects, Lightroom, and Flash Player.
"The U.S. Government issued Executive Order 13884, the practical effect of which is to prohibit almost all transactions and services between U.S. companies, entities, and individuals in Venezuela. To remain compliant with this order, Adobe is deactivating all accounts in Venezuela," Adobe explains.
The sanctions order seems to hit ordinary people rather than the government of Nicolás Maduro.
As described by Michelle Bachelet, United Nations' high commissioner for human rights, "the sanctions are extremely broad and fail to contain sufficient measures to mitigate their impact on the most vulnerable sectors of the population."
Adobe Can't Refund Subscription Money to Venezuela Users
The bad news doesn't end here.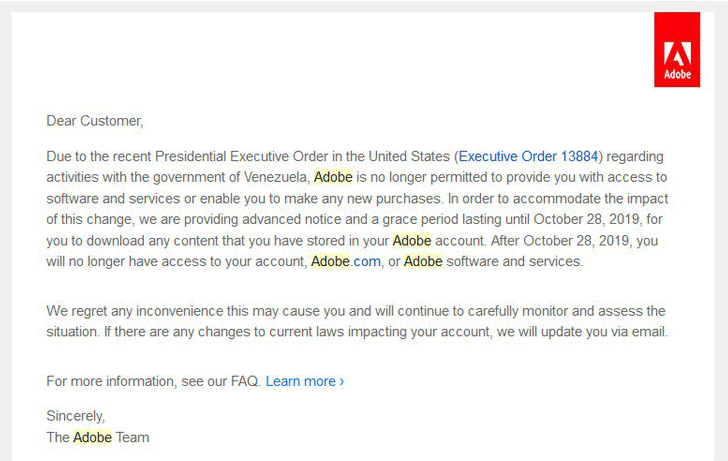 A copy of an email Adobe sent to its Venezuela users | Shared on Twitter
Adobe is also refusing to issue any refunds to its Venezuelan customers for any purchases or outstanding subscriptions, since the presidential order also barred any transactions with the entities, "including no sales, service, support, refunds, credits, etc."
This also means that access to free Adobe products is also being pulled off, and no new Venezuelan user can sign up for any of the company's services.
"Adobe will no longer provide access to software and services, including free ones, or enable you to make any new purchases. We apologize for the inconvenience," Adobe adds.
Venezuelan users will have until October 28—that's exactly 20 days from now—to download the data they saved over their Adobe accounts before the company deactivates them.
Since the executive order has been issued with no expiration date, Adobe says that the "decision to rescind it rests solely with the U.S. Government," and that the company will monitor any developments closely and make "every effort to restore services to Venezuela as soon as it is legally permissible to do so."
It's currently unclear if other U.S. technology companies, like Microsoft, Google, Facebook, and Twitter, have already or are planning to impose similar bans of their services for customers in Venezuela.