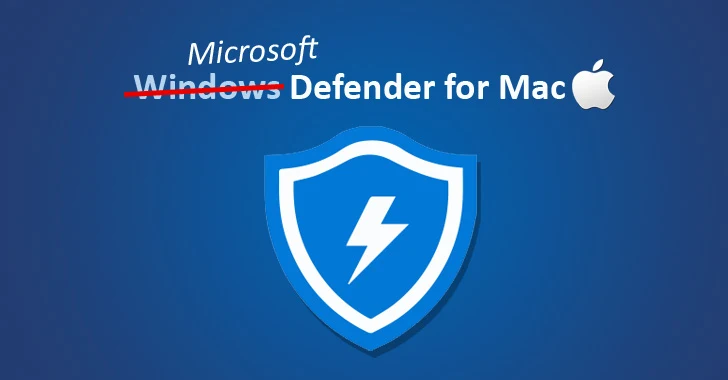 Brace yourself guys.
Microsoft is going to release its Windows Defender ATP antivirus software for Mac computers.
Sounds crazy, right? But it's true.
Microsoft Thursday announced that the company is bringing its anti-malware software to Apple's macOS operating system as well—and to more platforms soon, like Linux.
As a result, the technology giant renamed its Windows Defender Advanced Threat Protection (ATP) to Microsoft Defender Advanced Threat Protection (ATP) in an attempt to minimize name-confusion and reflect the cross-platform nature of the software suite.
But wait, does your Macbook need antivirus protection? Of course!
For all those wondering if Mac even gets viruses—macOS is generally more secure than Windows, but in recent years cybercriminals have started paying attention to the Mac platform, making it a new target for viruses, Trojans, spyware, adware, ransomware, backdoors, and other nefarious applications.
Moreover, hackers have been successful many times. Remember the dangerous
FruitFly malware
that infected thousands of Mac computers, the recently discovered cryptocurrency-stealing malware
CookieMiner
and DarthMiner, and
.EXE malware
discovered last month?
Microsoft Defender ATP Antivirus for Mac
Microsoft has now come up with a dedicated Defender ATP client for Mac, offering full anti-virus and threat protection with the ability to perform full, quick, and custom scans, giving macOS users "next-generation protection and endpoint detection and response coverage" as its Windows counterpart.
"We've been working closely with industry partners to enable Windows Defender Advanced Threat Protection (ATP) customers to protect their non-Windows devices while keeping a centralized "single pane of glass" experience," Microsoft says in a blog post.
Microsoft also promised to add Endpoint Detection and Response, and Defender ATP's new Threat and Vulnerability Management (TVM) capabilities in public preview next month.
TVM uses a risk-based approach to help security teams discovery, prioritize, and remediate known vulnerabilities and misconfigurations using a mixture of real-time insights, added context during incident investigations and built-in remediation processes through Microsoft's Intune and System Center Configuration Manager.
For now, the tech giant has released Microsoft Defender ATP for Mac (compatible with macOS Mojave, macOS High Sierra, or macOS Sierra) in limited preview for businesses that have both Windows and Mac computer systems.
Like MS Office for Mac, Defender for Mac will also use Microsoft AutoUpdate software to get the latest features and fixes on time.
While Microsoft has announced its plans to launch Defender ATP for more platforms in the future, the company has not explicitly named those platforms.
Also, it is not clear if Microsoft is also planning to launch a consumer version of Microsoft Defender for Mac users in the future.
Microsoft's business customers can
sign up here
for the limited preview.
In the attempt to make its security software available to more people, Microsoft just last week
released
Windows Defender extensions for Mozilla Firefox and Google Chrome as well.