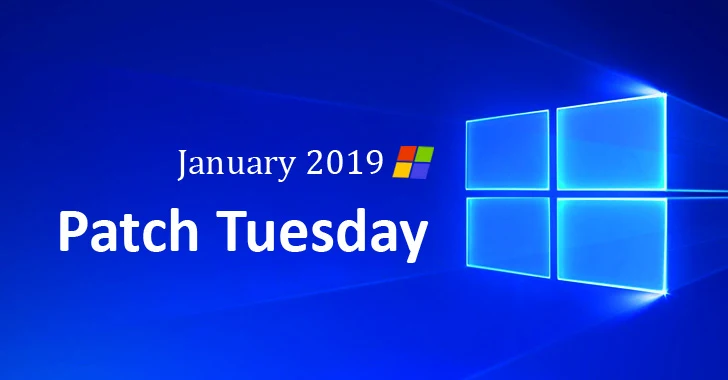 Microsoft has
issued
its first Patch Tuesday for this year to address 49 CVE-listed security vulnerabilities in its Windows operating systems and other products, 7 of which are rated critical, 40 important and 2 moderate in severity.
Just one of the security vulnerabilities patched by the tech giant this month has been reported as being publicly known at the time of release, and none are being actively exploited in the wild.
All the seven critical-rated vulnerabilities lead to remote code execution and primarily impact various versions of Windows 10 and Server editions.
Two of the 7 critical flaws affect Microsoft's Hyper-V host OS that fails to properly validate input from an authenticated user on a guest operating system, three affect the ChakraCore scripting engine that fails to properly handle objects in memory in Edge, one affects Edge directly that occurs when the browser improperly handles objects in memory, and one impacts the Windows DHCP client that fails to properly handle certain DHCP responses.
The publicly disclosed flaw but not exploited in the wild, identified as CVE-2019-0579 and rated as important, concerns a remote code execution (RCE) vulnerability in the Windows Jet Database engine that could be exploited to execute arbitrary code on a victim's system by tricking him into opening a specially-crafted file.
Other "Important" vulnerabilities are addressed in the .NET framework, MS Exchange Server, Edge, Internet Explorer, SharePoint, the Office suite, Windows Data Sharing Service, Visual Studio, Outlook, and Windows Subsystem for Linux.
One of the MS Office flaws patched this month is an information disclosure bug (CVE-2019-0560) which exists when Microsoft Office improperly discloses the contents of its memory.
Attackers can exploit this vulnerability by tricking a user into opening a specially crafted Office document. Successful exploitation could allow an attacker to obtain information from the Office memory that can later be used to compromise a victim's computer or data.
Microsoft credited Tal Dery and Menahem Breuer of Mimecast Research Labs for this vulnerability. To know more details about their findings, you can head on to an
advisory
and a
blog post
published by Mimecast.
Lock Screen Bypass Flaw in Skype for Android Also Patched
Another notable bug patched by Microsoft this month is a privilege vulnerability (CVE-2019-0622) vulnerability in Skype for Android that could have allowed hackers to bypass the lock screen and access personal data on an Android device—by merely answering a Skype call to that device.
The Skype flaw has been rated as 'moderate' and requires an attacker to have physical access to your device. A patch for this vulnerability was included in the December 23 release of Skype, but Skype for Android users need to manually update the app from Google Play.
Although Microsoft does not list this as publicly known, the researcher posted a YouTube video demonstrating the vulnerability back on December 31.
Though not part of this months patch update, users are also recommended to download the latest update to patch a memory corruption vulnerability (CVE-2018-8653) in Internet Explorer that Microsoft addressed by releasing an out of band patch in December, as the flaw continues to be exploited in the wild.
Users and system administrators are strongly recommended to apply the latest security patches as soon as possible to keep hackers and cybercriminals away from taking control of their systems.
For installing the latest security patch updates, head on to Settings → Update & Security → Windows Update → Check for updates, on your computer system or you can install the updates manually.