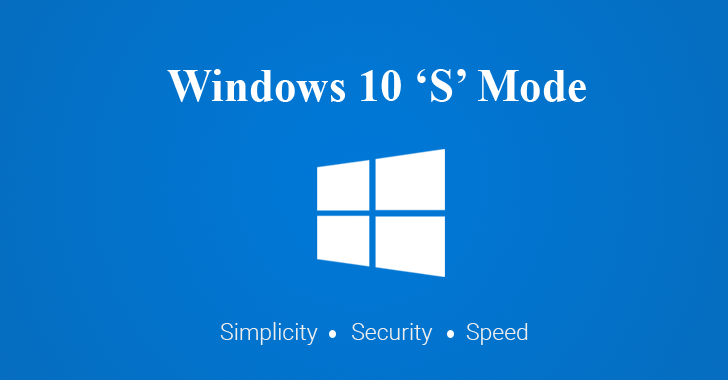 Microsoft has confirmed that the company is planning to convert Windows 10 S from a dedicated operating system to a special "
S Mode
" that will be available in all versions of Windows.
Windows 10 S, a new operating system designed for simplicity, security, and speed, was released by Microsoft last year. It locks a computer down to run applications only downloaded from official Windows Store, but the slimmed-down and restricted flavor of Windows did not exactly turn out to be a success.
Therefore, the company has now decided Windows 10 S be offered as an optional mode rather than a dedicated operating system.
Windows 10 S
was developed to simplify administration for school or business sysadmins that want the 'low-hassle' guaranteed performance version. It has been designed to deliver predictable performance and quality through Microsoft-verified apps via the Microsoft Store.
However, in a
blog post
published Wednesday, the corporate VP of Microsoft's operating systems group, Joe Belfiore admitted that the naming for Windows 10 S "was a bit confusing for both customers and partners."
Microsoft, therefore, decided that the original version of Windows 10 S would disappear and become an S Mode in Windows.
"Starting with the next update to Windows 10, coming soon, customers can choose to buy a new Windows 10 Home or Windows 10 Pro PC with S mode enabled, and commercial customers will be able to deploy Windows 10 Enterprise with S mode enabled," Belfiore said.
"We expect the majority of customers to enjoy the benefits of Windows 10 in S mode," he added.
Previous rumors also suggested that Windows 10 Pro customers with S Mode enabled on their devices would have to pay $49 to disable the mode to get access to a full version of Windows 10 Pro, but these rumors were inaccurate.
No user, be it a Windows 10 Home, Enterprise, and Pro customer, has to pay anything to disable the S Mode, as Belfiore wrote that "
if a customer does want to switch out of S mode, they will be able to do so at no charge, regardless of edition.
"
"We hope this new approach will simplify and make it possible for more customers to start using Windows in S mode: a familiar, productive Windows experience that is streamlined for security and performance across all our editions," Belfiore said.
S Mode is expected to with the next major Windows 10 update, thought to be called the Spring Creators Update, likely to arrive next month, and it is now up to PC makers to choose whether to enable the new S Mode or not.