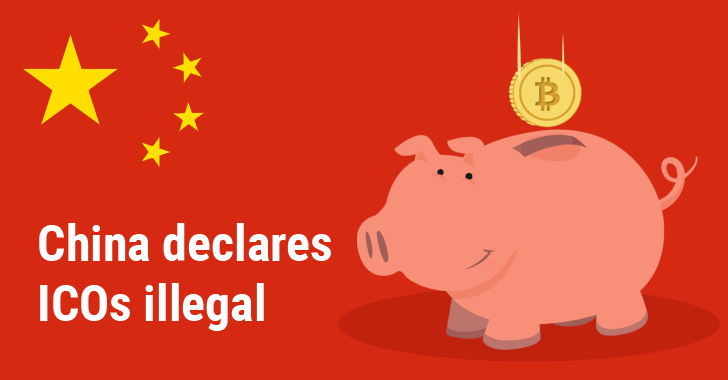 China's central bank today announced an immediate ban on all ICO—Initial Coin Offering—fundraising, to prevent fraud and illegal fundraising.
ICO is the hottest new thing in the blockchain world, which is an alternative to crowdfunding that lets a firm raise funding from multiple sources.
The People's Bank of China (PBoC), the country's central bank and financial regulator, has issued an
official notice
on Monday, forbidding
"all types of currency issuance financing activities"
that have
"seriously disrupted the economic and financial order."
This PBoC's bold move has been backed by many other Chinese government administrators and regulators including the China Securities Regulatory Commission, China Insurance Regulatory Commission and the Ministry of Industry and Commerce, and China Banking Regulatory Commission.
This move marks the end of an era of ICO fundraising in China.
The regulator claims that ICOs are being misused for
"illegal fund-raising, financial fraud, pyramid schemes and other criminal activities"
and from now, the Chinese government will closely monitor ICOs for signs of illegal activity.
The ban has also been applied to those individuals and organizations who have previously completed ICO fundraising, requiring them to return all investor funds as soon as possible.
The prices of Bitcoin and Ethereum—two of the largest cryptocurrencies in the market—slumped after the announcement.
For those who aren't aware of ICOs:
In the world of cryptocurrencies, ICO is an unregulated way to raise funds for businesses and startups—usually cryptocurrency-related—in exchange for virtual coins over blockchain rather than company shares.
In other words, companies offer investors a crypto-token in exchange against cryptocurrencies like Bitcoin or Ethereum, which investors can easily sell or trade on any cryptocurrency exchange.
The popularity of ICOs has surged in China this year, with 65 ICOs raising a total of 2.62 billion yuan (~$397.1 million) as of July from 105,000 individuals, according to Chinese news agency Xinhua.
However, there have been rising
concerns surrounding ICOs
over scams, and regulators globally are taking action.
"The growth of a few growing China based blockchain projects, i.e., NEO, will be slowing down after this announcement. This is similar to an event back in 2013 when China banned exchanges from allowing people to buy into Bitcoin using yuan. Bitcoin bounced back stronger after few years. It's only a matter of time before the same happens with NEO." the founder of Its Blockchain, Hitesh Malviya shared his comment on the announcement.
"Furthermore, the proposal to banning ICO is yet to be activated, and we can hope for the officials to rethink over time, whatever could be the future of ICO in China."
"Disruptive technology always finds a way around restrictive regulations, so it would be wise on the Chinese government's part to think of mitigating these fears while having some regulatory measures over ICOs. Until that time, we can only speculate."
In the United States, the Securities and Exchange Commission (SEC) has also
issued
an official warning
about the risks of ICOs
but has not made a firm move yet.