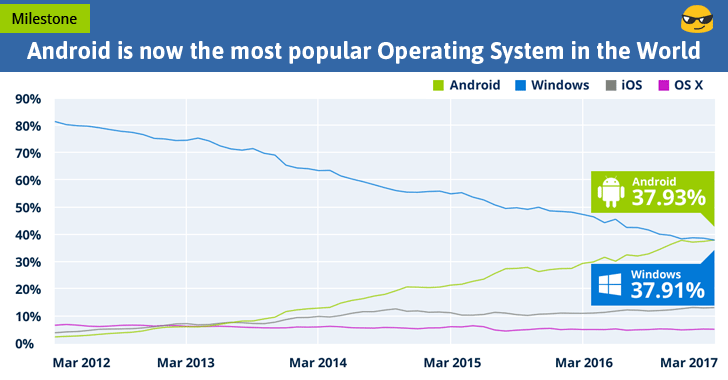 It's an impressive milestone for Google — For the first time in decades, Android has been crowned as the world's most popular operating system in terms of Internet usage, knocking Microsoft Windows off the top spot.
According to a new report from web traffic analytics firm StatCounter, Google's Android is the most popular operating system worldwide in terms of total internet usage across desktop, laptop, tablet, and mobile combined.
Looking at overall internet usage, Android represented 37.93 percent of the global OS Internet usage market share in March, while Windows accounted for 37.91 percent.
Although Windows is still not far behind, Android taking the lead is being described by StatCounter CEO Aodhan Cullen as a "milestone in technology history."
This achievement is due to the fact that mobile devices are used to connect to the Internet far more frequently than desktops and laptops, and people are spending more time on smartphones surfing the Internet than on desktops.
The report showed that Windows is still holding a 39.5 percent of the Internet usage market share against Android's 25.7 percent in North America, and 51.7 percent against 29.2 percent in Europe.
Android leads in Asia with a vast majority of internet usage in countries including India (79 %), Indonesia (72 %) and China (57 %).
However, one should keep it in mind that Windows still accounts for 84 percent of the worldwide desktop operating system market in March.
"Windows won the desktop war, but the battlefield moved on," Cullen noted. "It will be difficult for Microsoft to make inroads in mobile, but the next paradigm shift might give it the opportunity to regain dominance. That could be in Augmented Reality, AI, Voice or Continuum."
Statcounter collects its data with the help of tracking codes installed on websites that record page views.
The latest Statcounter's findings are based on 2.5 million websites that the firm claims generate over 15 billion monthly page views. The chart also highlights the internet usage of Apple's operating system as well.
During March 2017, the users of Apple's mobile operating system (iOS) were three times more active on the internet than users of Apple's desktop operating system (Mac OS X).