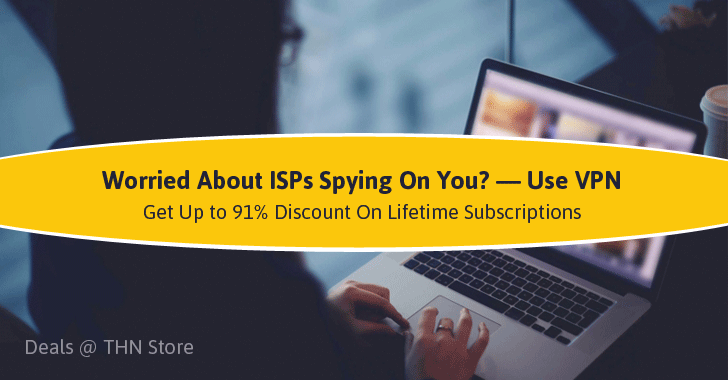 Data Privacy is a serious concern today with the vast availability of personal data over the Internet – a digital universe where websites collect your personal information and sell them to advertisers for dollars, and where hackers can easily steal your data from the ill-equipped.
If this wasn't enough, US Senate voted last week to
eliminate privacy rules
that would have forced ISPs to get your permission before selling your Web browsing history and app usage history to advertisers.
If passed, ISPs like Verizon, Comcast, and AT&T, can collect and sell data on what you buy, where you browse, and what you search, to advertisers all without taking your consent in order to earn more bucks.
How to Prevent ISPs And Hackers From Spying On You
So, how do you keep your data away from advertisers as well as hackers?
Private Browsing!
If you're worried about identity thieves or ISPs spying on or throttling your traffic, the most efficient way to secure your privacy on the Internet is to avoid mucking around in public networks; use a VPN instead.
But what is a VPN and how does the service enhance privacy and security?
VPN
– stands for
Virtual Private Network
– is a secure tunnel between your computer and destinations you visit on the internet. Your computer connects to a VPN server, which can be located anywhere in the world, and your web traffic then passes back-&-forth through that server.
The Result: You are browsing from that server's geo-location, not your computer's location. So your identity remains anonymous.
To ensure the privacy of your data, VPN encrypts your data. Some VPNs use SSL (Secure Sockets Layer) for encryption, while others might use IPSec or PPTP to keep your information encrypted from prying eyes.
Isn't it the great reason to use a VPN? Of course, Yes.
Since there are so many services to choose from, THN Deals Store brings you some excellent and
secure VPN services
at highly discounted prices with lifetime subscription, so it cannot get heavy in your pockets.
If you're searching for an affordable and reliable VPN service without any bandwidth limits, VPNSecure is a good pick.
This premium service is compatible with all operating systems — from Windows and Mac OS X to iOS and Linux — easy to use, offers lightning-fast connection and provides ultimate safeguards against ISPs and hackers.
With strict no-log record policy, VPNSecure has many servers located in over 41 countries and counting.
The
VPNSecure Lifetime Subscription
is available for $39 at THN Deals Store, which usually costs $450 — isn't this an excellent deal, a one-time flat fee for a lifetime VPN subscription.
This sale is set to expire in the next few days, though, so get your order in now.
If you are looking for an ad-free, completely secure Internet experience, you can not get better than OneVPN.
OneVPN works double duty — cleaning up your browsing while also making sure you remain anonymous from hackers, ISPs and government who may be monitoring your web activity.
Unlike other VPN services, OneVPN lets you maintain a high speed while surfing the web with 60 servers based in 21 countries across the globe, so no matter where you travel to, you will be covered.
The
OneVPN: Lifetime Subscription
is available for just $49.99 and 2-Year Subscription for just $19.99 at THN Deals Store, which usually costs $477 and $238 respectively — which is a pretty amazing price.