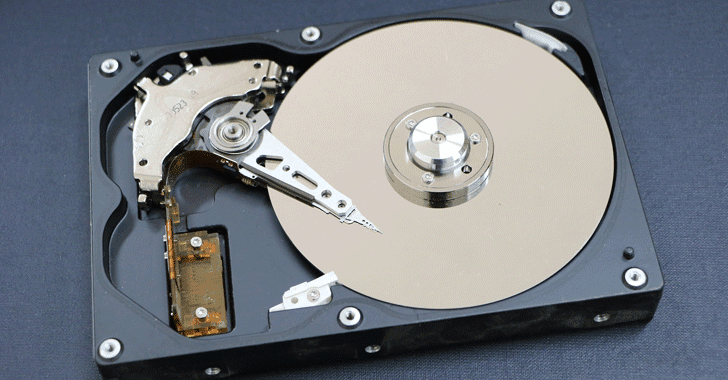 If you want to get the most out of your computer, you need to get the most out of your hard drive, where all your data is stored.
Today hard drives are larger than ever, so it makes sense for you to partition your hard disk to effectively use all of its space and manage all your important information.
Partitioning is also useful if you intend to install and use more than one operating system on the same computer.
There is a vast business of partition manager software out there, and today we are reviewing one of the most popular partition management tools available in the market:
EaseUS Partition Master Professional
.
EaseUS Partition Master Professional offers you the complete package with capabilities for organizing and resizing your drive, restoring and backing up your information, improving system performance, installing and managing several operating systems on the same computer, along with recovering and cloning data files.
Let's dig deep into the capabilities provided by the EaseUS Partition Master Professional software.
Resize, Move Or Merge Multiple Partitions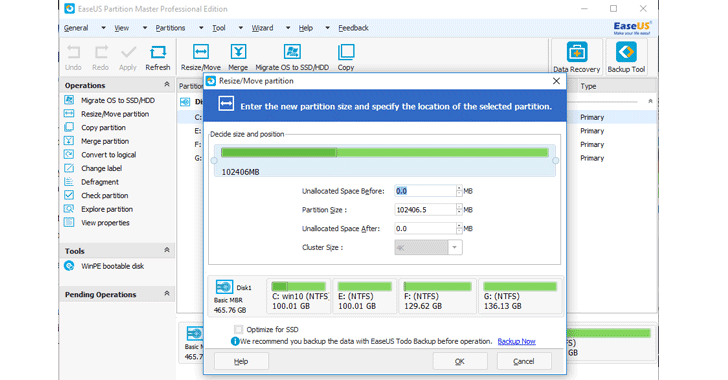 You might have, at some point, obsessed with low space in one certain partition of your hard disk while others may be left unused for long with much space. At this point, you can choose to merge two partitions for a larger system partition.
But resizing or combining your system and boot partition C drive, which holds your Operating System, without any third party tool is not always a good idea, as there are chances of data loss.
So, in that case, users are always advised to use a third-party partition tool from a reputable and trustworthy company.
EaseUS partition software can get this job done with ease.
EaseUS Partition Master Professional provides one-click, easy-to-use interface to help you move, resize, merge, hide or unhide the existing disk partitions without damaging even a single bit of original data.
All you need to do is launch the EaseUS Partition Master Professional software, choose the disk partition you want to process and right click on it, and you'll get the list of all the available operations that can be performed.
Once you resize or move your partitions, you are advised to backup your data.
Migrate OS to SSD/HDD Without Reinstalling Windows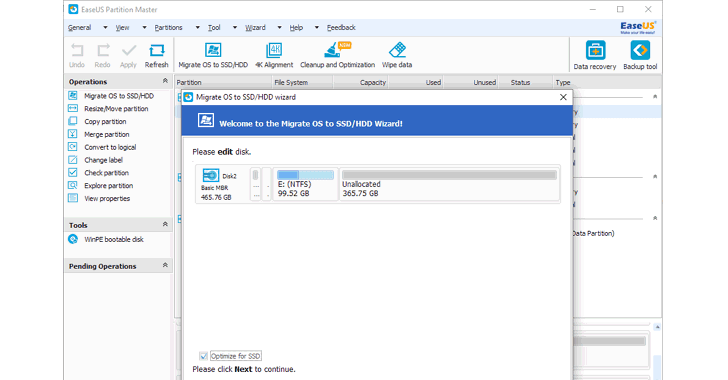 One of the major features of EaseUs Partition Master Professional is the ability to migrate your operating system to another hard drive (
SSD or HDD
).
So, if you are upgrading your old PC for better performance, this tool also allows you to transfer all your data on system and boot partitions, including OS and installed applications, without reinstalling the operating system on the new drive.
To migrate your OS from HDD to SSD, all you need to do is launch the application, click on Wizard and then select '
Migrate OS to SSD/HDD
' from the main menu. Now select SSD as destination disk, delete partitions on the target drive, resize partitions on the target disk, and then click Finish.
Moreover, it also supports MBR and GPT disks
Bootable Partition Manager (CD/DVD/USB)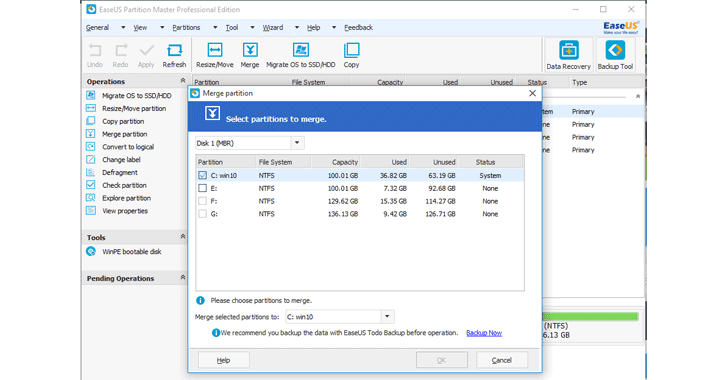 The tool also enables users to manage hard disk partitions even when their OS fails to boot or manage partitions without an operating system.
Also, users who are looking for a bootable USB flash drive partition manager that will be able to resize partitions, EaseUS Partition Master is your pick.
UPCOMING WEBINAR
🔐 Mastering API Security: Understanding Your True Attack Surface
Discover the untapped vulnerabilities in your API ecosystem and take proactive steps towards ironclad security. Join our insightful webinar!
Join the Session
To create a bootable USB flash drive partition manager, you first need to download and launch EaseUS Partition Master, then select Tool → Create WinPE bootable disk → USB and then start to create a USB bootable disk of EaseUS Partition Master.
After that, you can launch EaseUS Partition Master from bootable USB device or CD/DVD and manage your hard drive partitions.

Copy/Clone Partition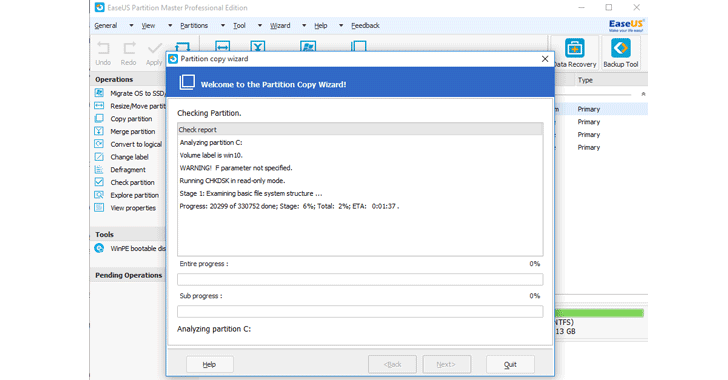 If ransomware malware strikes, only a good backup can save your files and money, and EaseUS Partition Master helps you do just that.
The Partition Copy and Disk Copy features integrated into EaseUS Partition Master are specially designed to provide protection from data loss.
The Partition Copy feature aims to backup your partitions before the partition operations applied to the hard disk to prevent any data loss from program error or some other accidental errors.
Partition Copy let you copy a partition to unallocated space on your hard disk, and even allow you to resize the unallocated space during the procedure if necessary.
On the other hand, Disk Copy lets you not only make a backup copy of your hard drive but also allows you to copy your entire system from a small hard disk to a larger hard drive.
Securely Erase Data on SSD or HDD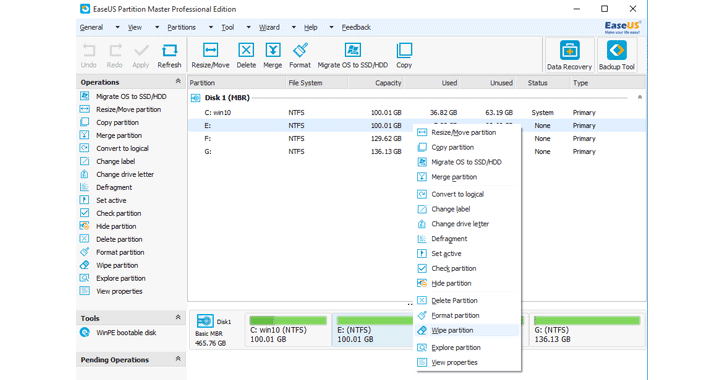 If you've just got a new PC and want to sell your old one, make sure all your data has been cleared securely and can not be recovered anyhow.
Because, when you delete a file, it is not deleted. Those deleted files still exist. Your PC only removes the file indexing information from the hard drive.
So, if that deleted data is not overwritten, it can be recovered later, which may include your passwords, private photographs, personal information, classified documents or financial records.
So, always be sure to securely erase your data before selling or throwing away your device.
Using EaseUS Partition Master, you can securely delete your files or entire drive in a way that it can not be recover anyhow.
To do so, first, launch EaseUS Partition Master Free, select the SSD or hard disk you want to erase, and then right click and select "Wipe disk."
The tool will then ask you to set the number of times (1-10 times) to wipe your hard drive and click "OK." A dialog box will appear saying your PC will computer restart after disk erase. Just click "OK" and then click "Apply" to securely erase SSD or HDD.
Note: If you are erasing your entire hard disk, make sure that it does not include system partition because your system will not boot after wiping the drive.
Support and Compatibility (OS, File System, Drive Type)
The free version of EaseUS Partition Master supports up to 8TB hard disks while the professional version supports up to 16TB disks and 32 disks at most.
Talking about the operating system, EaseUS Partition Master supports Windows 10, 8.1, 8 and 7 SP1, and 32-bit and 64-bit versions of Windows 7, Vista and Windows XP Home Edition and Professional.
EaseUS Partition Master supports MBR and GPT disks – GPT disks are faster than MBR and help with high-capacity hard disk drives. So if you want to convert your regular MBR hard disk drive into GPT, you can use EaseUs that'll do it without any data loss.
EaseUS Partition Master is supportive over different file systems as well, including EXT3, EXT2, NTFS, FAT32, FAT16, FAT12, and ReFS. It also supports different device types including Solid-State Drive (SSD), IEEE 1394 (FireWire) HDD, USB 1.0/2.0/3.0 HDD, all levels of SCSI, IDE and SATA RAID controllers, full support of RAIDed configurations (hardware RAIDs) and removable devices, like flash drive, memory card, and more.
EaseUs is one of the top disk management software developers out there, and its Partition Master Professional software stands up to its name.
Conclusion:
EaseUs Partition Master Professional is a complete solution for managing, copying and recovering your disk partitions within only a few simple clicks. A large number of superb partitioning and solid additional features as well as the user-friendly interface place EaseUS Partition Master near the top and make it difficult to beat.
So, if you are looking for an effective partition manager, you should give it a try, as its worth its every single penny.
EaseUS Partition Master Professional Edition
costs just $39.95, while its Server Edition costs $159.00 and Home Edition is free. You can also take a Free Trial of EaseUS Partition Master Professional Edition.
If this partition tool really met all your requirements, you can purchase EaseUS Partition Master Pro at highly discounted price at The Hacker News. We are giving
50% discount on EaseUS Partition Master Pro
to our readers.
Just use
SEO-LGR-85D
coupon code at the time of checkout.