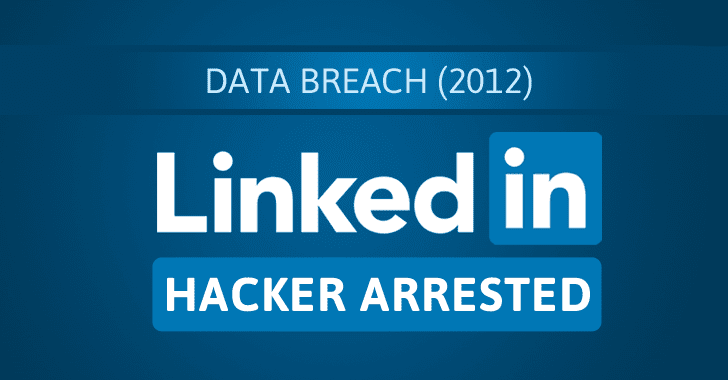 The alleged Russian hacker arrested by the FBI in collaboration with the Czech police is none other than the hacker who was allegedly responsible for massive
2012 data breach at LinkedIn
, which affected nearly 117 Million user accounts.
Yevgeniy N
, 29-year-old
Russian hacker was arrested
in Prague on October 5 suspected of participating in conducting cyber-attacks against the United States, according to
Reuters
.
Earlier it was suspected that the hacker could be involved in hacking against the
Democratic National Committee
(DNC), or its presidential candidate
Hillary Clinton
, intended to influence the presidential election.
However, the latest statement released by LinkedIn suggests that the arrest was related to a 2012 data breach at the social network that exposed emails and hashed password of nearly 117 Million users.
"We are thankful for the hard work and dedication of the FBI in its efforts to locate and capture the parties believed to be responsible for this criminal activity," LinkedIn said in a statement.
"Following the 2012 breach of LinkedIn member information, we have remained actively involved with the FBI's case to pursue those responsible."
Earlier this year, a hacker under the nickname "Peace" put on sale what claimed to be the database of
167 Million emails
and hashed passwords, including 117 Million already cracked passwords, belonging to LinkedIn users.
WEBINAR
Discover the Hidden Dangers of Third-Party SaaS Apps
Are you aware of the risks associated with third-party app access to your company's SaaS apps? Join our webinar to learn about the types of permissions being granted and how to minimize risk.
RESERVE YOUR SEAT
But, it is still unclear if the arrested hacker is the same one who was selling LinkedIn data dump on the
Dark Web
market a few months ago.
Watch Video of Hacker's Arrest:
But if it turns out to be the same one, then it would be a jackpot for the FBI because 'Peace' is the hacker who was also responsible for selling data dumps for
MySpace
,
Tumblr
,
VK.com
, and
Yahoo
! on the dark web marketplace.
Czech police said that a court would take the decision on the hacker's extradition to the U.S., where he is facing charges for his hacking-related crimes.
We will update the story as soon as we get official confirmation from the U.S. feds.